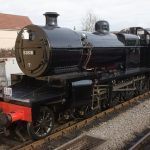 Leave your thoughts
25 July 2020.
Somerset & Dorset Railway Trust Ltd. and West Somerset Railway PLC have issued a joint statement regarding the Trust's restored S&D 7F locomotive, No. 53808 - formerly S&D No. 88.
The new agreement will see 53808 move to the Mid-Hants. Railway for the remaining duration of the boiler certificate.
Read the full statement here.
Subsequently, the Mid-Hants. Railway issued the following statement: