To help support the Trust's conservation and restoration activities, why not join us? It costs from just £17 per year and comes with many benefits, see below. Andy Young, our Membership Secretary, looks forward to welcoming you with a complimentary copy of our latest magazine whilst your membership application is being progressed.
If you wish to join us now, we'll welcome you with the winter magazine and you'll receive all four quarterly issues in 2023. Your membership will run until the end of 2023.

When ordering membership, any other items you require from our online shop can be included at the same time; there is no need to order them separately.
---
Membership benefits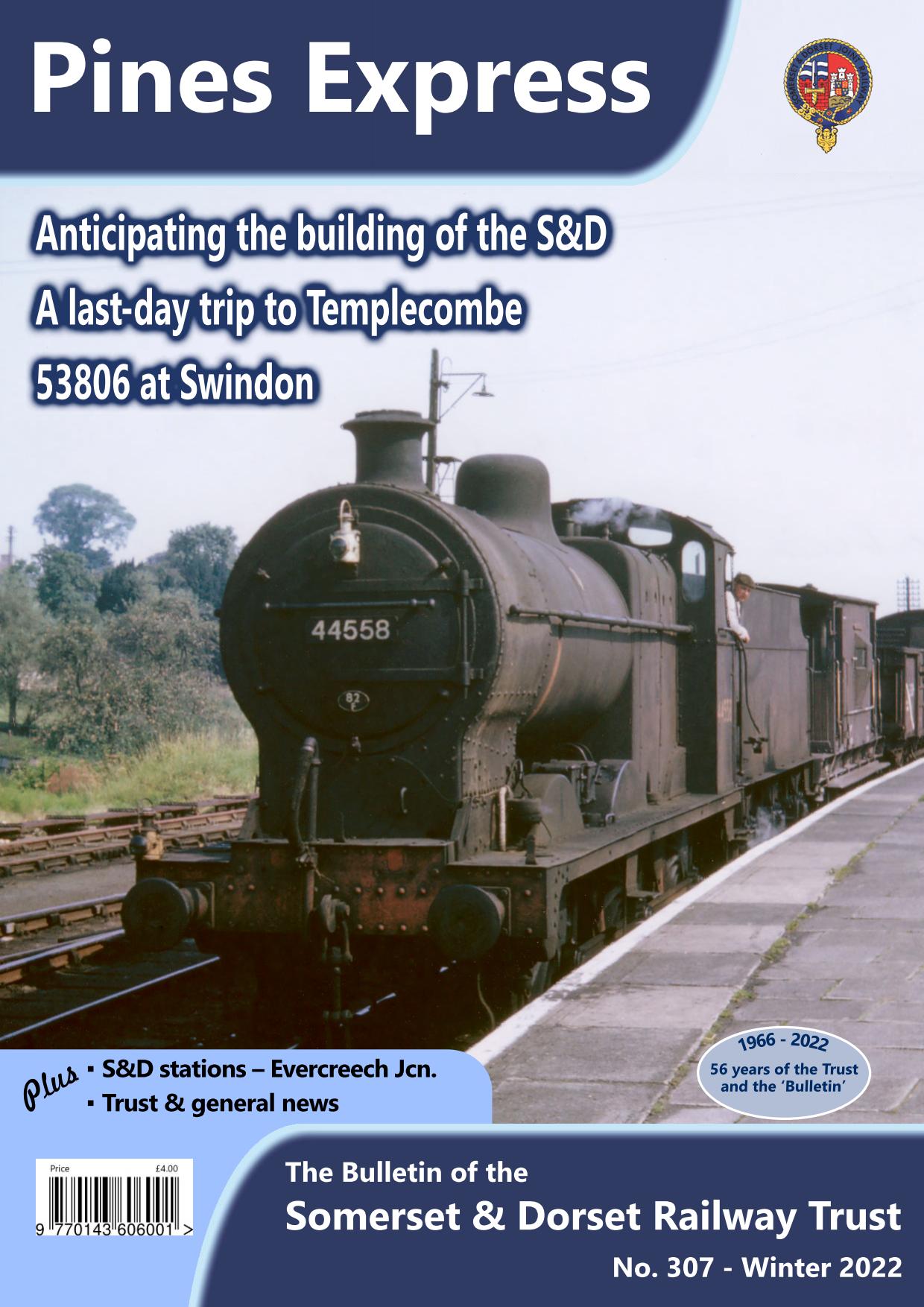 All members receive a copy of our quarterly magazine, the latest edition of which is the winter issue. The magazine is packed with great reading material and photographic content, including:
– Anticipating the building of the S&D. "From Padstow Point to Lundy Light, Is a watery grave by day and night"… so ran the sailors' traditional rhyme. However, the S&D was by no means the first railway proposal to address the Land's End seafaring problem, says Jonathan Edwards. He describes several earlier schemes that were developed during the 'railway mania'.
– A last-day trip to Templecombe. While 12-year-old Geoff Sutton and his friend waited at Bailey Gate for the 7.42 am to Templecombe to emerge from the mist on the last day of timetabled services, he wasn't to realise that the occasion was being captured by a photographer on the opposite platform. John Woods' gloomy picture adds to the poignancy of the story of that day, the two lads being told to be back at teatime as the next service back would be the very last one… which didn't arrive until after 10 pm.
– More on doubling the Corfe Mullen cut-off. Peter Russell continues with further information on the Broadstone to Corfe Mullen line, covering sidings, bridges, OS map observations and closure dates.
– A visit to the Wimborne District Society of Model Engineers. When Stewart Lanham visited this miniature railway system – which was developed by a club formed in 1972 – he found a wide variety of motive power and operations… and a model of the Trust's S&D 7F, No. 53808!
– S&D stations – Evercreech Junction.This is part 31 in David Grimwood's station series and for this article he has dredged the archives for information about Evercreech Junction – a legendary but modest station.
– 53806 at Swindon. This S&D 7F was photographed receiving repairs at Swindon on two dates in March 1963. Bob Curtis examines the likely reasons for carrying out the work at a shed not normally associated with S&D 7Fs.
– Trust and general S&D news.
– Centre-spread photo. Pulling out the sales supplement reveals an archive photo printed across the centre pages. We have 44558 (S&D No. 58) on the front cover of this issue and the centre spread is of the same engine during the harsh winter of 1962/3.
– Four-page pull-out sales supplement.
44 A4 pages including the sales supplement.
Benefits include:
– Our magazine, Pines Express, four times a year. A wide variety of articles is complemented by photographs from the Trust's extensive archive.
– Access to PDF copies of every Bulletin/Pines Express ever published, with a new search facility that looks through the text of all 307 issues!
– The Trust's Annual Special Train; with extra low fares and hauled by the Trust's restored S&D 7F, 53808.
– Online & Postal Sales.
– Participation in events and restoration work (see the volunteering page).