To help support the Trust's conservation and restoration activities, why not join us? It costs from just £14 per year and comes with many benefits, see below. Andy Young, our Membership Secretary, looks forward to welcoming you with a complimentary copy of our latest magazine whilst your membership application is being progressed.  Memberships taken out now last until the end of 2022.
When ordering membership, any other items you require from our online shop can be included at the same time; there is no need to order them separately.
---
Membership benefits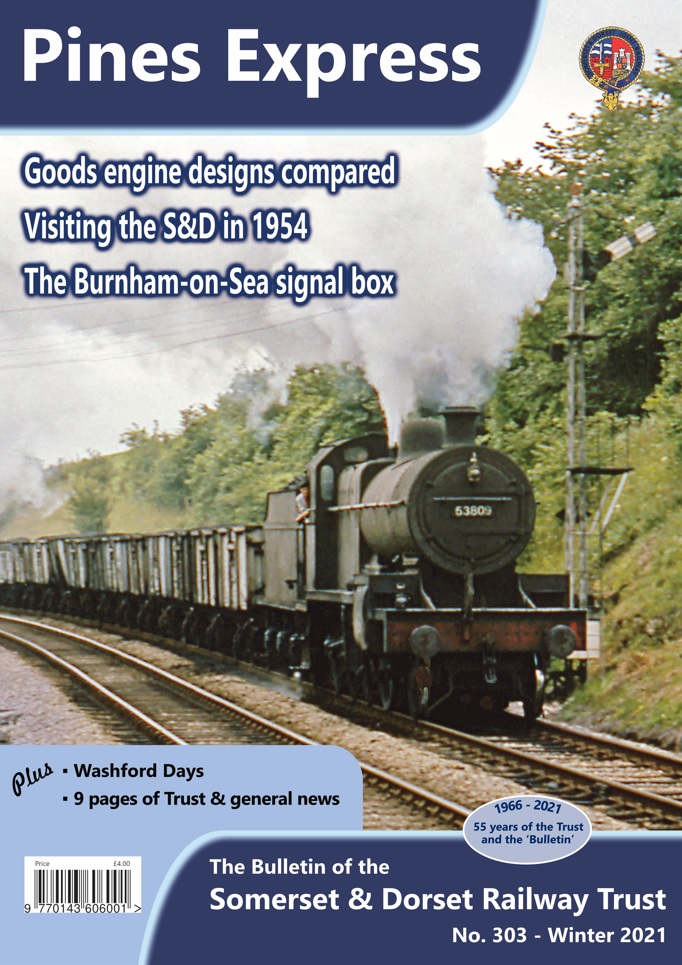 All members receive a copy of our quarterly magazine, the latest edition of which is the winter issue. The magazine is packed with great reading material and photographic content, including:
– Are the S&D 7Fs worthy of the adulation they receive? In part 2 of his article, Bob Curtis compares the characteristics of various contemporary goods engine designs in detail and considers the longevity of the S&D 7Fs; 53800 through to 53810 being in service for 38 to 47 years.
– Sid Nash's Days on the S&D. Following an earlier article about Sid Nash's visit to the S&D in 1951, Gerry Nichols presents more photos and logbook extracts, this time from another visit made in 1954. Nash was an Eastbourne-based railwayman and photographer whose notebooks and photographic collection were bequeathed to the Stephenson Locomotive Society.
– The Burnham-on-Sea signal box. Following the move of this Trust artefact to the Watercress Line at Ropley, we take a photographic look at the box – believed to date from around 1877 – in its original surroundings. Chris Osment looks at the early evidence of the box's existence in old records and Signal Instructions.
– S&D stations – Corfe Mullen Halt. David Grimwood, for part 27 of his station series, looks into this minor stop which, as he says, offered an unviting shelter and single oil lamp for prospective passengers.
– Washford Days. With the Trust now leaving Washford – its base for around 45 years – Roger Newport recalls time spent volunteering on site and in the station.
– The memories of Ted Lambert, part 3. The transcribed memories of an S&D railwayman.
– Nine pages of Trust and general S&D news.
– Centre-spread photo. Pulling out the sales supplement reveals an archive photo printed across the centre pages; in this case, 92220 Evening Star with a northbound express approaching Masbury summit in August 1962 as the end for S&D through services drew near.
– Four-page pull-out sales supplement.
44 A4 pages including the sales supplement.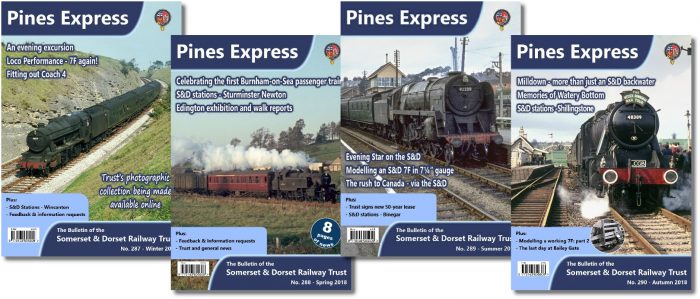 Benefits include:
– Our magazine, Pines Express, four times a year. A wide variety of articles is complemented by photographs from the Trust's extensive archive.
– Access to PDF copies of every Bulletin/Pines Express ever published, with a new search facility that looks through the text of all 303 issues!
– The Trust's Annual Special Train; with extra low fares and hauled by the Trust's restored S&D 7F, 53808.
– Online & Postal Sales.
– Participation in events and restoration work (see the volunteering page).