To help support the Trust's conservation and restoration activities, why not join us? It costs from just £17 per year and comes with many benefits, see below. Andy Young, our Membership Secretary, looks forward to welcoming you with a complimentary copy of our latest magazine whilst your membership application is being progressed.
If you wish to join us now, we'll welcome you with the spring magazine and you'll receive all three remaining quarterly issues in 2023. Your membership will run until the end of 2023.

When ordering membership, any other items you require from our online shop can be included at the same time; there is no need to order them separately.
---
Membership benefits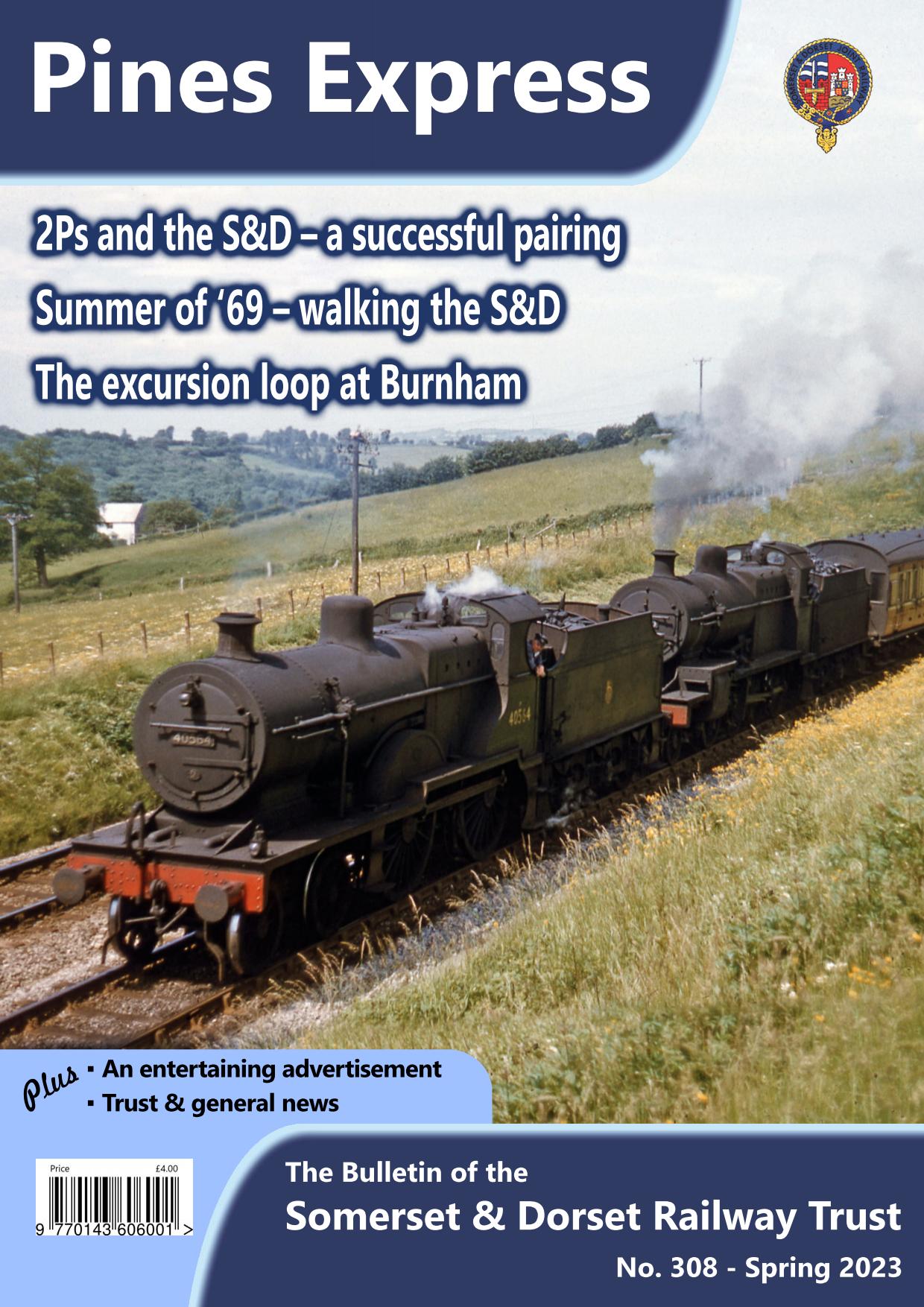 All members receive a copy of our quarterly magazine, the latest edition of which is the spring issue. The magazine is packed with great reading material and photographic content, including:
– 2Ps and the S&D – an unlikely but successful marriage. Although the Midland Class 2 had a reputation that, when added as a pilot, rather than pull the train it would have to be pushed to the destination, they proved very useful on the S&D with the combination of steep gradients and relatively low speeds. In the first instalment of a 2-part article, Bob Curtis looks into their design.
– The summer of '69 – walking the S&D. Bryan Adams sang about 'the best days of my life' during which time Steph Gillett attempted to walk an S&D trackbed that was now returning to nature. Illustrated with copious photos.
– The excursion loop at Burnham-on-Sea. John Palmer describes the track layout at Burnham-on-Sea and the difficulties in accommodating long excursion trains, particularly the centenary special in 1954.
– The South Western Limited Railtour. Adding the G A Richardson images – recently donated to the Trust – enables more of the story of a particular occasion to be told. Here, the 1960 railtour is seen arriving at Broadstone – with S&D 7F No. 53804 waiting to take over – and is then seen running through Bailey Gate.
– Locomotives & Railways. Another instalment from the series 'The Somerset & Dorset Joint Railway and its locomotives', published in 1900-02.
– An entertaining advertisement at Edington Junction. Perhaps time stood still at Edington – well, almost – as a traveller making use of the waiting room in 1927 noticed a shipping line's advertisement poster that was probably nearly half a century old. Jonathan Edwards relates.
– Evening Star – additional movements. Following on from his article detailing the day-to-day movements of 92220 Evening Star before working the last Pines Express over the S&D, Bob Curtis adds additional details.
– S&D stations – Masbury. In part 32 of his stations series, David Grimwood considers remote Masbury. This could almost have been said to be 'an iron age fort with its own station'…
– Trust and general S&D news.
– Centre-spread photo. Pulling out the sales supplement reveals an archive photo printed across the centre pages. Given the lead article, the centre spread has two 2Ps, 634 and 696, topping Masbury summit with the Pines Express sometime in the 1930s.
– Four-page pull-out sales supplement.
44 A4 pages including the sales supplement.
Benefits include:
– Our magazine, Pines Express, four times a year. A wide variety of articles is complemented by photographs from the Trust's extensive archive.
– Access to PDF copies of every Bulletin/Pines Express ever published, with a new search facility that looks through the text of all 308 issues!
– The Trust's Annual Special Train; with extra low fares and hauled by the Trust's restored S&D 7F, 53808.
– Online & Postal Sales.
– Participation in events and restoration work (see the volunteering page).