To help support the Trust's conservation and restoration activities, why not join us? It costs from just £14 per year and comes with many benefits, see below. Andy Young, our Membership Secretary, looks forward to welcoming you with a complimentary copy of our latest magazine whilst your membership application is being progressed.  Memberships taken out now last until the end of 2022.
When ordering membership, any other items you require from our online shop can be included at the same time; there is no need to order them separately.
---
Membership benefits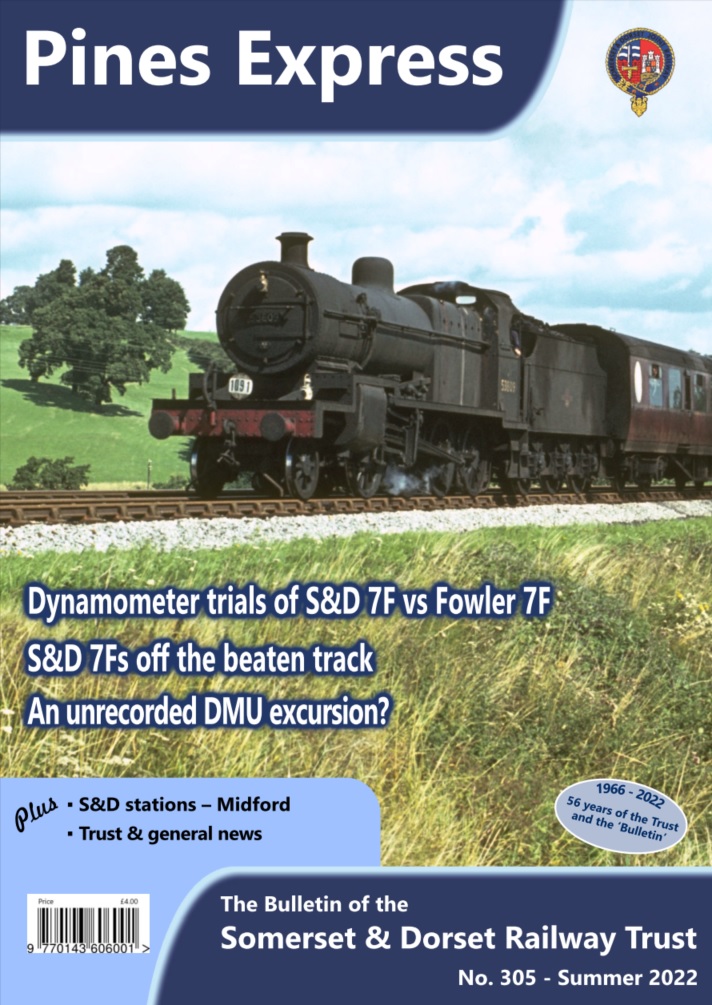 All members receive a copy of our quarterly magazine, the latest edition of which is the summer issue. The magazine is packed with great reading material and photographic content, including:
– Dynamometer car trial between S&D 7F 2-8-0s & a Fowler 7F 0-8-0. By 1930, the Fowler-designed LMS 7F 0-8-0s were proving unreliable, contrasted to the older-design S&D 7F 2-8-0s. At this time, dynamometer car tests were arranged between the 0-8-0 and the S&D 7Fs and 4Fs – Bob Curtis provides the details. The tests included No. 9678; a previous number of the Trust's engine, No. 53808.
– A cuckoo in the nest! Prompted by a chance sighting of a previously-unpublished photo in one of Ivo Peters' albums, Mike Arlett questions whether it has really taken more than 60 years to reveal an unrecorded DMU excursion over the S&D. The date was 5 June 1960 and the DMU was travelling from Cheltenham to Bournemouth.
– More on doubling the Corfe Mullen cut-off. Following on from Jonathan Edwards' article in PE 304, former local resident Peter Russell looks further at the abandoned doubling proposals, including the legislative background and operational issues.
– S&D stations part 29 – Midford. Although a minor stop on the S&D, David Grimwood records that Midford was rather accident-prone with steep gradients either side of the station and being situated on a ledge, landslips were another risk.
– S&D 7Fs off the beaten track. Gerry Nichols presents a trio of photos dating from 1919 and 1930 showing S&D 7Fs at work in other parts of the country, away from the S&D.
– Trust and general S&D news.
– Centre-spread photo. Pulling out the sales supplement reveals an excellent archive photo printed across the centre pages; in this issue, we see BR Standard Class 5 No. 73049 piloting S&D 7F No. 53809 on a passenger service just past Masbury summit on a fine summer day in August 1962.
– Four-page pull-out sales supplement.
44 A4 pages including the sales supplement.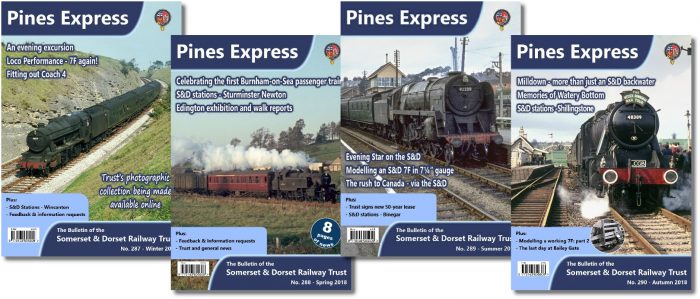 Benefits include:
– Our magazine, Pines Express, four times a year. A wide variety of articles is complemented by photographs from the Trust's extensive archive.
– Access to PDF copies of every Bulletin/Pines Express ever published, with a new search facility that looks through the text of all 305 issues!
– The Trust's Annual Special Train; with extra low fares and hauled by the Trust's restored S&D 7F, 53808.
– Online & Postal Sales.
– Participation in events and restoration work (see the volunteering page).