To help support the Trust's conservation and restoration activities, why not join us? It costs from just £17 per year and comes with many benefits, see below. Our Membership Secretary looks forward to welcoming you with a complimentary copy of our latest magazine whilst your membership application is being progressed.
If you wish to join us now, we offer you membership until the end of next year for just a couple of pounds more than our annual renewal rate. We'll welcome you with the summer magazine and you'll receive six more quarterly issues during 2023/4. Your membership will run until the end of 2024. Excellent value!

When ordering membership, any other items you require from our online shop can be included at the same time; there is no need to order them separately.
---
Membership benefits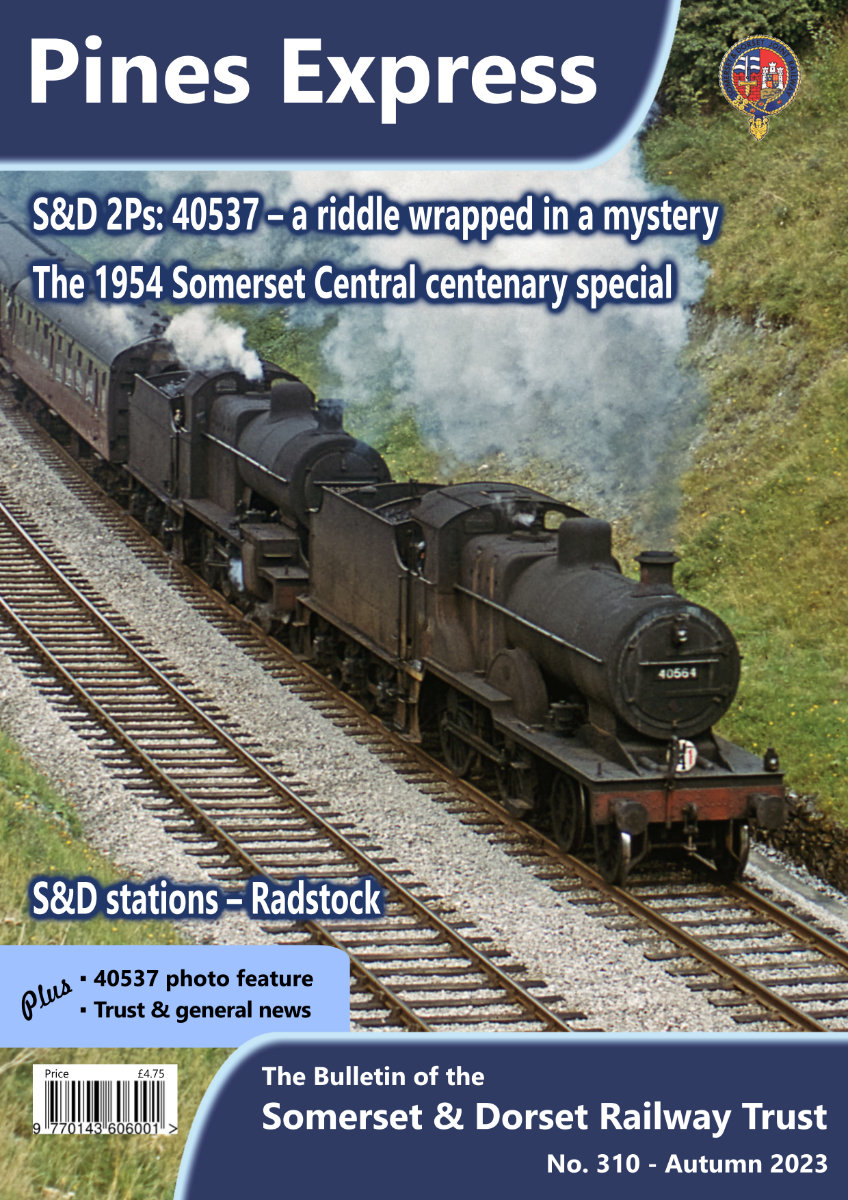 All members receive a copy of our quarterly magazine, the latest edition of which is the autumn issue. There's plenty of great reading material and photographic content, including:
– S&D 2Ps – 40537: a riddle wrapped in a mystery. The movements of the last of the S&D 2Ps are related by Bob Curtis and he finds that the engine's location wasn't always in line with the official records.
– 40537 on the S&D . A two page photo feature with 40537 in steam on the S&D in 1962.
– The General Strike of May 1926. A photo shows members of a family in the steam roller business in Highbridge on an S&DJR locomotive footplate. S&DJR minutes record that volunteers had been enlisted generally and this led David Bown to look more closely at the impact of the General Strike on the S&D.
– Modelling focus. Nick Ridgway's model layout of Nettlebridge New Colliery is based on an S&D proposal that never came into being.
– Masbury station: some further memories. Chris Challis follows on from a recent S&D stations article by recalling other aspects of daily life at this remote station.
– The summer of '69 – walking the S&D: part 3. Having stayed the night in his tent at Radstock, Steve Ehrlicher continued onwards over the Five Arches and on to Midsomer Norton South – where the station was a sorry sight compared to the restored station and track of today.
– The 1954 Centenary Special. The Somerset Central's centenary was celebrated in 1954 with a special train and events. We have a selection of photos provided by the son of Edwin Jackson who was at that time the Highbridge shedmaster.
– S&D stations – Radstock. Next year sees the 150th anniversary of the opening of the S&D line through Radstock. The arrival of the railway had a major impact on the town as David Grimwood relates in part 34 of his stations series.
– Centre-spread photo. Pulling out the sales supplement reveals an archive photo printed across the centre pages. Last December, the Trust received the G A Richardson collection of railway photos and the centre spread in this issue is a finely detailed view of 7F No. 53810 with a northbound through service at Winsor Hill on 28 July 1962, just a few weeks before the through services were diverted.
– Trust and general S&D news.
– Four-page pull-out sales supplement.
44 A4 pages including the sales supplement.
Benefits include:
– Our magazine, Pines Express, four times a year. A wide variety of articles is complemented by photographs from the Trust's extensive archive.
– Access to PDF copies of every Bulletin/Pines Express ever published, with a new search facility that looks through the text of all 309 issues!
– The Trust's Annual Special Train; with extra low fares and hauled by the Trust's restored S&D 7F, 53808.
– Online & Postal Sales.
– Participation in events and restoration work (see the volunteering page).