Following on from safeguarding, the Trust is now making the arrangements to ensure that it continues to flourish and progress in the future.
The move of No. 53808 to the Watercress Line was the first stage in this process and has been followed by a further announcement on part of the museum collection. Moving the collection from Washford will be very costly and whilst we are very pleased with the progress of the appeal, further donations will be greatly appreciated.
Find out how you can help here. Current total £43,543.
---
Our current magazine
---
The Trust's S&D 7F No. 53808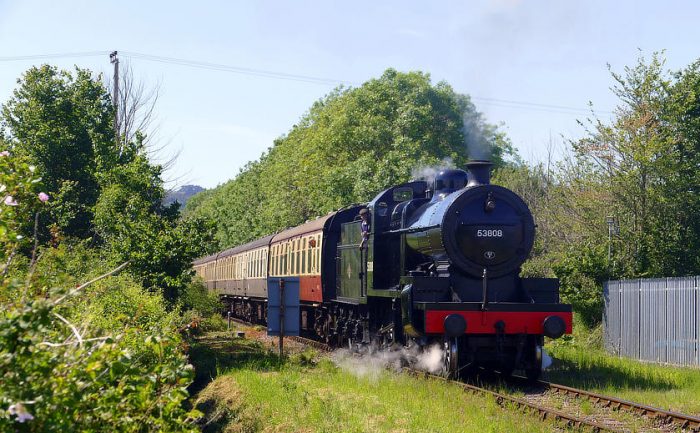 Latest photos.
Image © Tim Edmonds, http://www.wsr.org.uk/cgi-bin/snap.cgi?h=Snapshot&p=2019/05/248
Latest Press Statements
3 May 2021.
A statement about the long-term loan of items to the North Dorset Railway is available on this link.
---
The S&D Railway and the Trust
The Somerset & Dorset Railway ran from Bath across the Mendips and through Dorset to Bournemouth, with branch lines across the Somerset Levels to Burnham-on-Sea, Bridgwater and Wells, explained here. The line's early days are fondly remembered for its Prussian Blue engines and coaches, and later for the holiday expresses from the north of England to the south coast. The Somerset & Dorset Railway Trust keeps these and many other memories alive through its extensive museum collection and archives, engines and rolling stock, restoration workshop, events and quarterly magazine.
---
---
Welcome to the Trust
The Trust works in partnership with others to keep alive the memory of the Somerset & Dorset Railway and its importance as a major cross-country route for the communities through which it passed.
As well as gathering and recording information about the line, through artefacts, archives and oral history, the Trust promotes the spirit of the S&D through its distinctive locomotives and rolling stock, still at work today.
The Trust arranges events including an annual Model Railway Exhibition at Edington (near Bridgwater).
As well as the information available on this site, we also have a regularly-updated Facebook page with over 3000 followers and a wide selection of short videos on Vimeo and on YouTube.