53808: A most memorable weekend – by Jonathan Edwards
---
Attendance at an SDRT committee meeting at Washford on Saturday 15 August resulted in my undertaking a hot, crowded, jerking journey on London's Underground to Paddington the previous evening – 2½ hours later, courtesy of BR InterCity 125 and a Taunton taxi, I was in the contrasting calm, tranquility and homeliness of the Camping Coach.

To my amazement, I was the sole occupant of the Camping Coach that night. No other weekend volunteers, apparently – not even Nigel.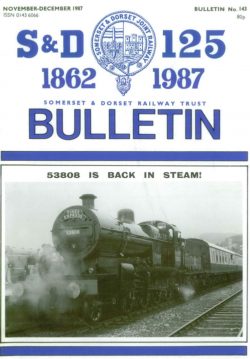 All was explained when Alan Cott­rell turned up soon after eight o'clock on Saturday morning. 53808 was due for her official boiler test the following Tuesday, and the restoration gang had decided to light her up on that Saturday to make sure no unforeseen problems would arise on the big day.

Alan and I drove down to Minehead, arr­iving to find 53808 gently simmering out­side the former goods shed. In attendance were Dave Williams and Dave "Taffy" Kane, full-time WSR employees who had a major hand in restoring '08, and the Trust's Nigel Smart and Cliff Loeber. Nigel was just completing two weeks holiday taken to help finalise the restoration since re-boilering; Cliff had been down from his home town of Chelmsford throughout his school holidays to do likewise.

All four had worked the previous day and had been up all night; at three minutes past midnight, Nigel had had the honour of lighting the carefully-prepared fire, and through the night, the steam pressure was cautiously and gradually raised. Alan and I joined Nigel, Dave and Taffy on the foot­plate, and just stood there taking it all in. Well, after all these years, this was really it! At five past nine, Nigel un­wound the tender brake handle, Taffy gave the all clear from the Fireman's side, Dave gave a toot on the whistle, opened the double-handed regulator slightly, and we slowly crept forward about a hundred yards. The brakes applied, we stopped; Dave wound the reverser, and we set back to our start­ing point.

Business called, and it was back to Washford for the Committee meeting. Others visited Minehead later during the day, and witnessed 53808 moving up and down within station limits.
The official boiler test successfully took place on Tuesday 18 August, and that same evening, 53808 ran from Minehead up to Blue Anchor and back. The following eve­ning, 53808 worked a two coach special to Bishops Lydeard and back for clearance testing purposes, and on 26 August, ran an evening "Sunset Special" from Minehead to Blue Anchor and return.

I returned to Washford for the 29 August inaugural "Pines Express". Richard Dagger and I spent most of the day scraping down the woodwork of the CCT, prior to its re­paint. As the afternoon wore on, the ex­citement rose. 53808 worked the 5.10 pm Minehead-Bishops Lydeard service train, and well before that train's arrival at Washford, a small army had gathered at the end of the platform. 53808 came romping up the bank with her four coaches, and the Washford "lads" joined the train.

I will admit to sticking my head out of the window every few minutes to confirm that it really was 53808 hauling us – the fact that after a rescue and restoration project lasting not a great deal short of 20 years, she was finally hauling a train, took time to really sink in. Photographers were everywhere en route — on overbridges, in adjacent country lanes, and in the fields. I almost expected to see some of the cows with cameras around their necks! And one sight I shall never forget — Rodney Scovell quite literally jumping for joy having photographed us from a field on Woolston Moor.

Huge crowds awaited us at Lydeard, and after various shunting manoeuvres to add on the dining cars, we set off as the "Pines Express" for Minehead at about 7.00 pm. As Trust members had completed the restoration of the tender at Washford, it seemed wholly appropriate that 53808 should be travelling tender first. On the footplate were Driver Dave Williams, Fireman Paul Conibeare, WSR Chief Mechanical Engineer Malcolm Kershaw and Taffy Kane. A rather cloudy day had turned into a glorious sunny evening, and quite a crowd, including our Museum Curator, gathered at Washford to see us go through. A photographic stop took place as the sun set at Blue Anchor.

All eyes were on 53808 during the stop­over at Minehead, a veritable firework display of flashing camera bulbs greeting her as she emerged from behind the coaches while running round.
Upon arrival back at Lydeard, the crowds gradually dispersed, and 53808 set off with four coaches ECS for Minehead. The lads "rode the cushions" back to Washford; with just the handful of us occupying the train, it was not difficult to imagine we were on the 10.00 pm (SO) Bournemouth West – Templecombe Lower, as we meandered in darkness through the countryside on the single track.
---
Former S&D staff celebrate the return to steam
The return to steam of 53808 was formally marked over the weekend of 12-13 September 1987 and was attended by many former S&D staff members.

Subsequent to the event, the Chairman received this letter:
"Please accept our very sincere thanks for a wonderful weekend (12/13 Sept). Johnny Walker has asked me to convey to you his sincere gratitude for your very kind efforts to book him in with Peter and myself. Wasn't it a glorious time? '08 looked a picture and rode like a Rolls. We met again old work mates, talked of old times, and then once again we stepped up into the footplate of a live Class 7. I enjoyed every minute, as did Peter and Johnny. Please find a small donation to buy '88' a meal of best Welsh cobbles. Donald".

You may also be interested in: 53808's Restoration.