53808: Restoration – from BR service to 30 years with the Trust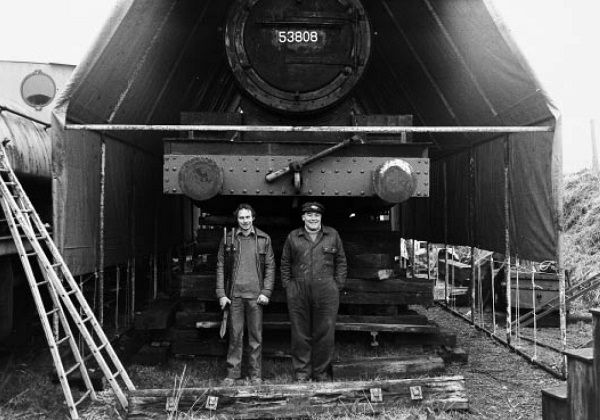 Photo above: Richard Lock and the late Mike Palmer under the tent covering 53808 at Washford during the early days of the restoration. The Trust's Peckett Kilmersdon can just be seen on the left.
The article below is reproduced from Pines Express issue 286, Autumn 2017, and describes how 53808 was rescued by the Trust and subsequently restored.
You may also like to see these pages: Latest photos.  53808's history.  How the S&D 7Fs came into being.  The Return to Steam in 1987.
---
53808: from BR service to 30 years with the Trust – by Roger Hardingham
We are all very lucky indeed in being able to celebrate No. 53808's 30th year in steam at the West Somerset Railway. Without the existence of a certain scrap merchant in South Wales, we would not today have any ex-S&D 7F locomotives. One of the miracles of Dai Woodham's scrapyard at Barry in South Glamorgan was that several locomotive types were added to the UK's preserved list of standard gauge engines. Two of these are Nos. 53808 and 53809. Had it not been for the miracle of Barry we simply would not have them to see and enjoy today.

The two S&D locomotives were both withdrawn from Bath Green Park MPD in April 1964 and found their way to Barry by August of that year. Woodhams had put a bid in for the locomotives as they were relatively close to the South Wales scrapyard and therefore would cost less to transport from Bath. Other locomotives on shed at nearby Bristol also made their way to the yard at Barry that year, one in the form of Jubilee Class No. 45690 Leander. Indeed the year of 1964 would see the largest intake – 74 – of redundant locomotives at Barry during the nine-year period of arrivals. Further, otherwise extinct locomotives arrived in the form of Southern types such as the Urie S15s, an N-class and four U-class engines. However, many of the new recruits were ex-GWR tank locomotives from the various South Wales depots which were increasingly withdrawing locomotives.

The key to the survival of these rare engines at Barry was that from August 1965 Woodham's ceased routine locomotive scrapping. Contracts to scrap the thousands of withdrawn mineral wagons had gained momentum and so the locomotives were generally left to one side for, in Dai Woodham's words, "a rainy day". In 1968, steam on British Rail came to an end. Just one month following the fifteen guinea special of 11 August from Liverpool to Carlisle, the first locomotive departed from Barry for pastures new. This engine was LMS 4F No. 43924 which had been withdrawn from Bristol Barrow Road in 1965 and just three years later made its way to Haworth on the Keighley & Worth Valley Railway. This would start an exodus from Barry which would continue right up to 1990 with a magnificent final total of 213 locomotives escaping the cutting torches.

With Nos. 53808 and 53809 arriving at Barry in August 1964, they joined the other 108 engines in the yard that had accumulated since 1959. They were both sighted by a visitor in 1968 – No. 53808 in the West Pond (lower yard) and 53809 in the top yard near to the closed Barry Works building. Engines were being cut up at Barry, just 35 by 1965, but it just depended on where in the yard a particular engine was when the next one was required for the scrapmen. It was pure luck and quite often it was the one that was closest to the cutting up area at the time. The S&D 7Fs were lucky and managed to survive the first year in that graveyard of steam. That they were able to get through that first crucial period at Barry is why we have them today. Just four more locomotives were dismantled at Barry, two in 1972/3 and two in 1980. The many thousands of wagons that had ended their days at Woodham's yard in the intervening years, saved the remaining locomotive stock.

No. 53808 was recognised quickly as being a rare example that could not be allowed to be missed and this is where the S&D Circle (now the S&DRT) stepped in. With the Bath to Bournemouth line closing in March 1966, attempts were soon started to try and preserve a part of the system. Radstock North was chosen as a potential base and as history tells us, the Circle established themselves in the former depot and station there by the late 1960s under a yearly rental agreement with BR. By October 1970 an agreement had been reached with Dai Woodham to purchase No. 53808 for £2,500, but by monthly instalments, something which was quite unusual for Dai as he would normally insist on full payment up front before it departed!

However, the Fowler 2-8-0 left Barry hauled by a BR diesel locomotive which took it to Radstock, famously filmed by legendary photographer Ivo Peters. As the 1970s progressed it soon became clear that the scheme at Radstock was not going to be fully realised and so it was decided to relocate to Washford on the WSR. 53808 made its way to Washford in 1976 and a concerted effort was started on its restoration. Ten years later, in August 1987, a resplendent 7F was brought into service once more. In 2017 we can all be proud of the Trust and the people involved in the locomotive's past restoration for a wonderful job and with two overhauls since that time, we can still enjoy this rare example from 1925 in Somerset.

Restoration images below.

You may also be interested in: 53808's Return to Steam.
Here are some images of the restoration, as featured in Pines Express issue 286.