---
4 December 2021.
Matt Bentley captured several great views of 53808 during the second weekend of the Watercress Line's Steam Illuminations.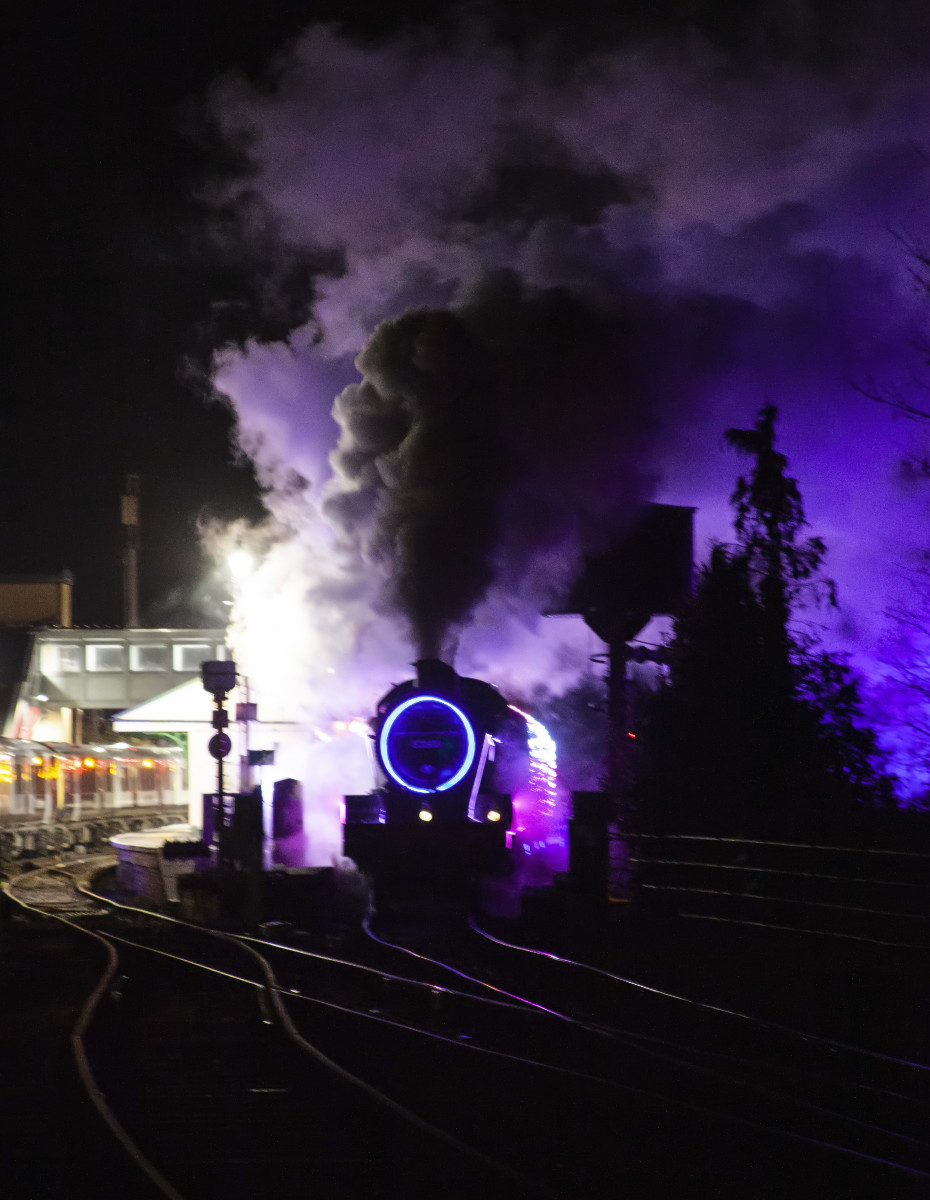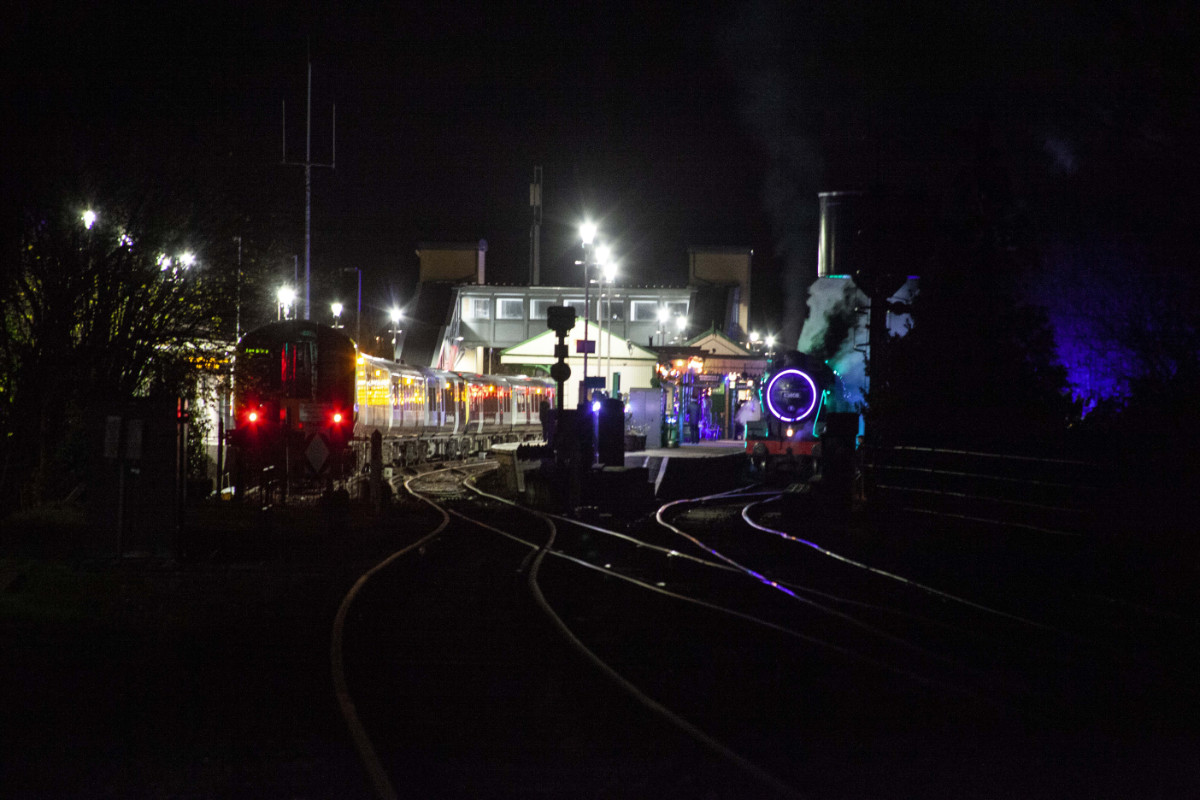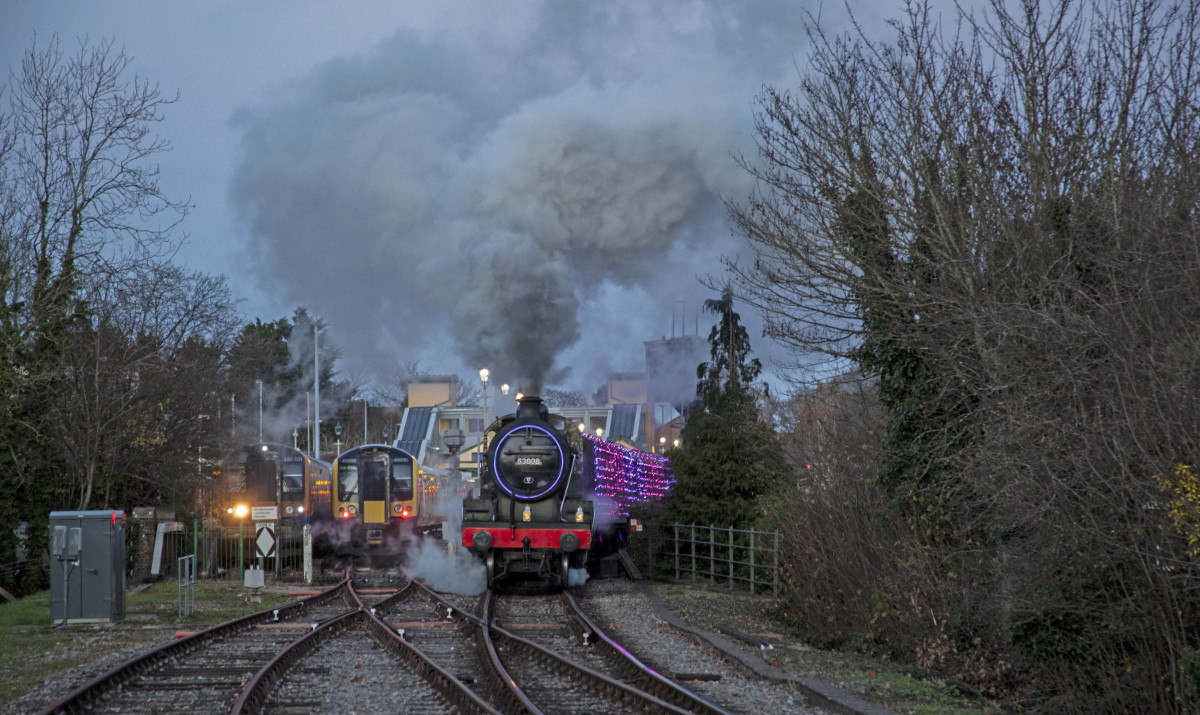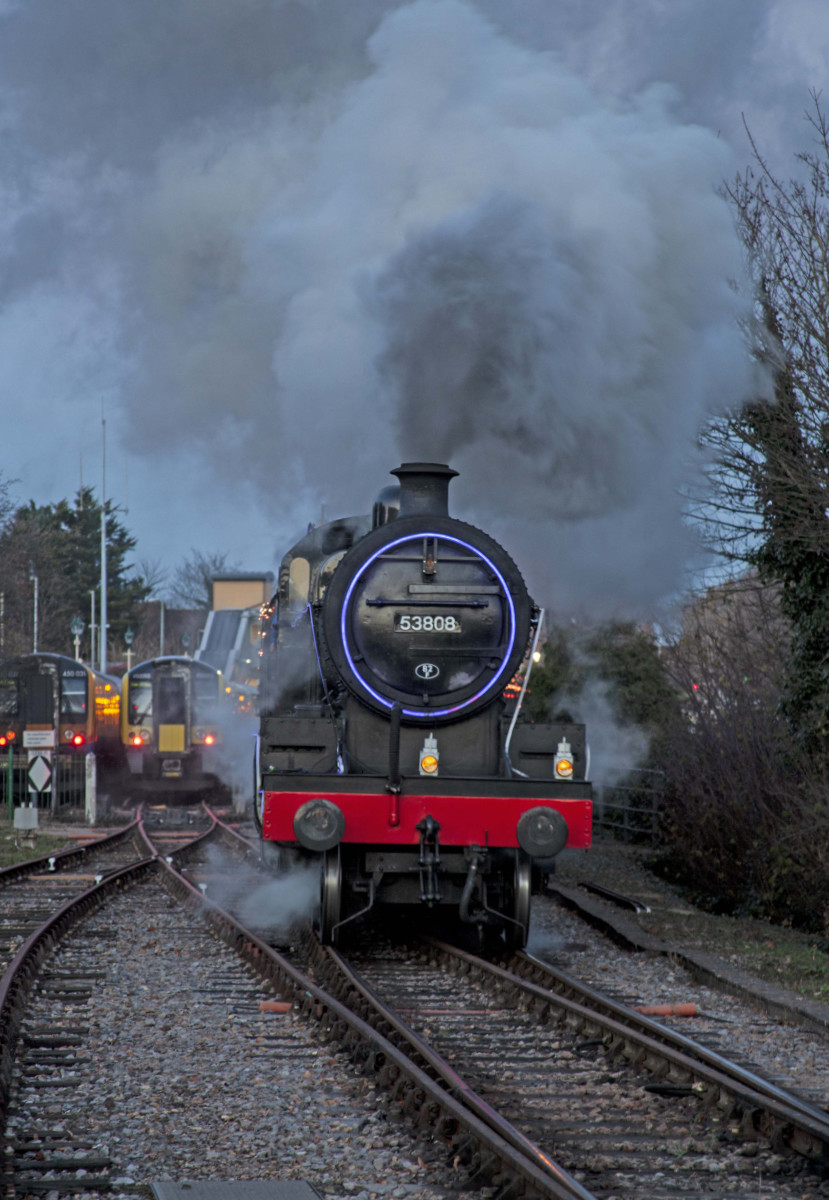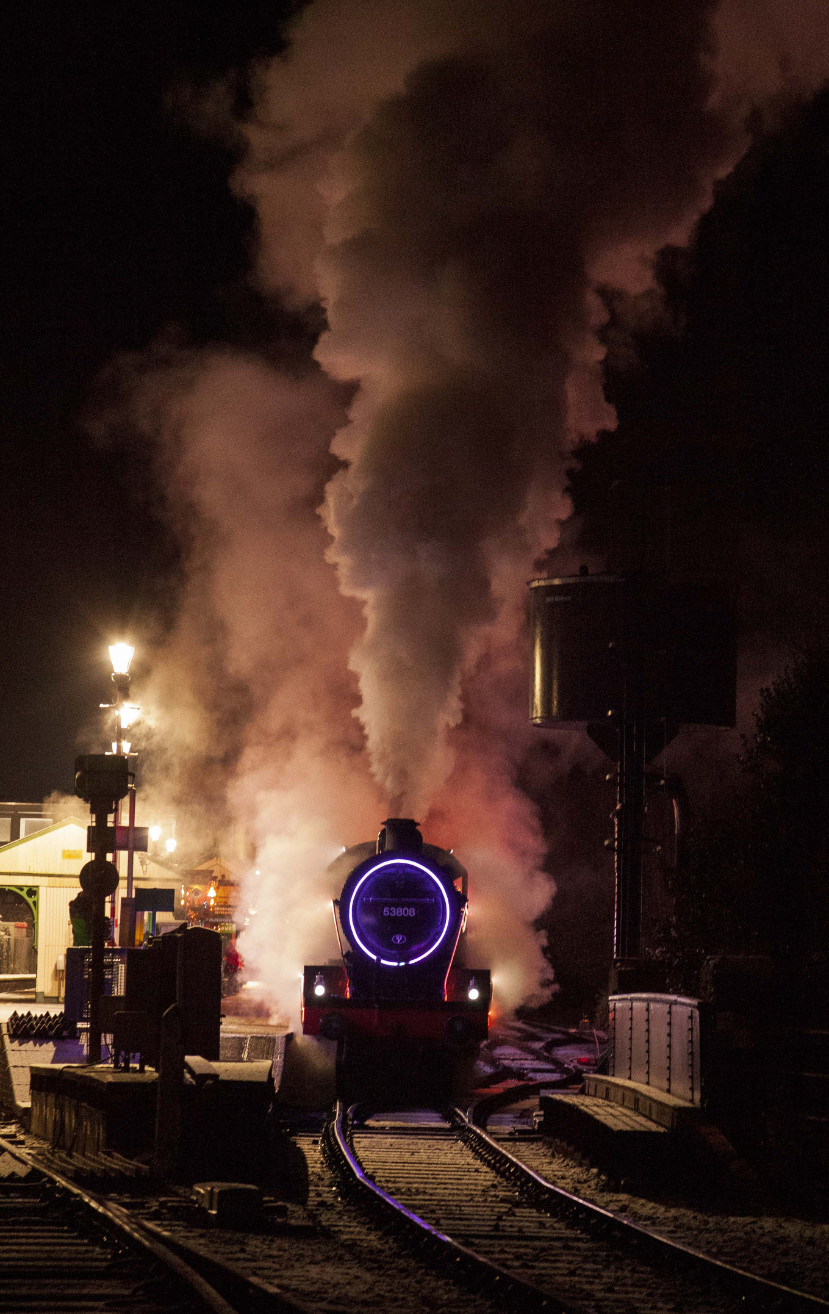 ---
4 October 2021.
Here's a selection of photos taken on Friday 1 October and on the Sunday in varying weather conditions.
The Trust's No. 53808 naturally features, along with No. 34092 which was named City of Wells at Wells Priory Road in 1949.
[All photos by Julian Clark.]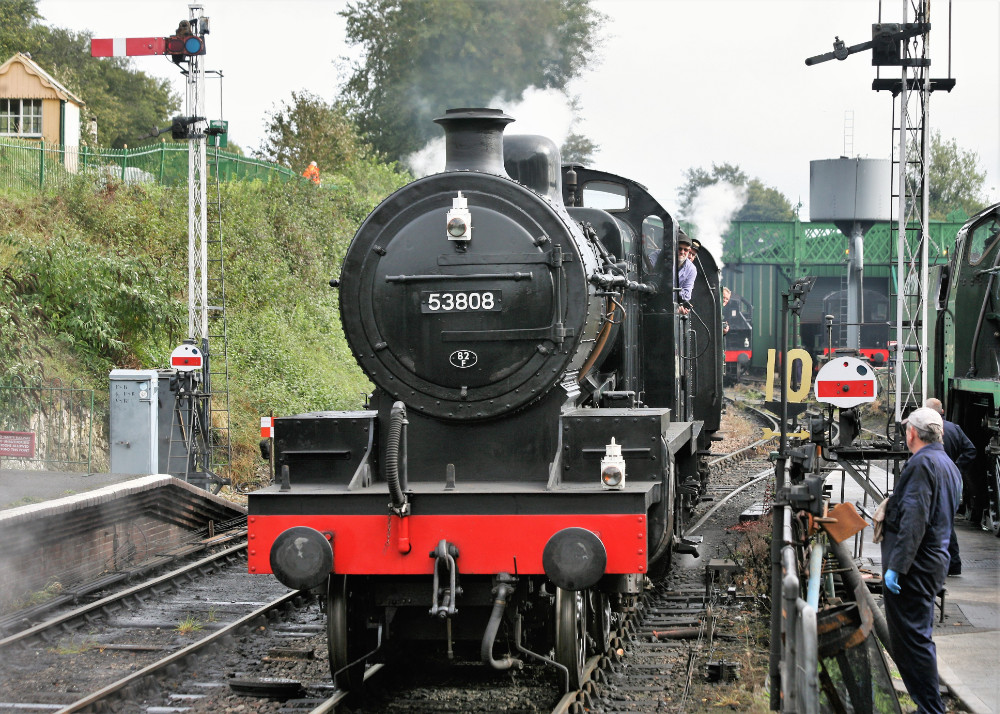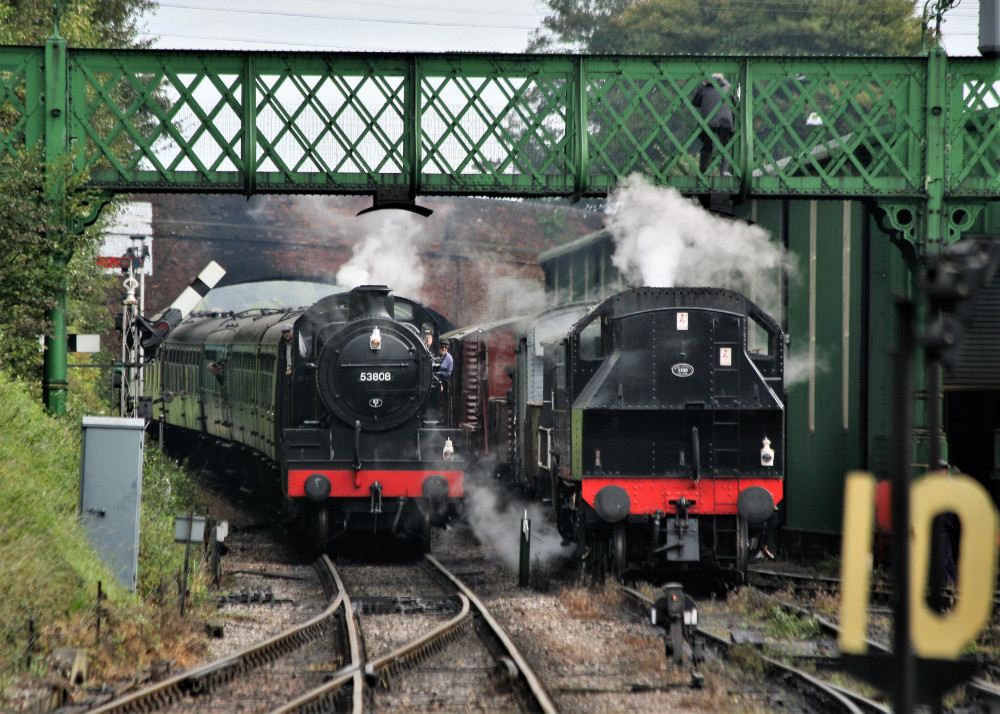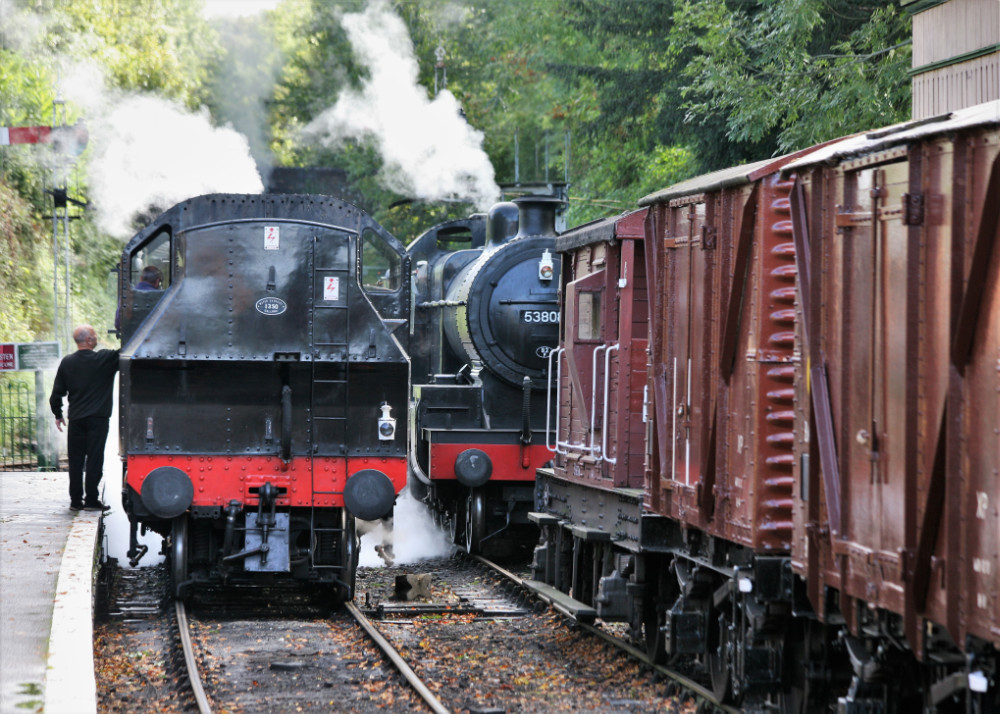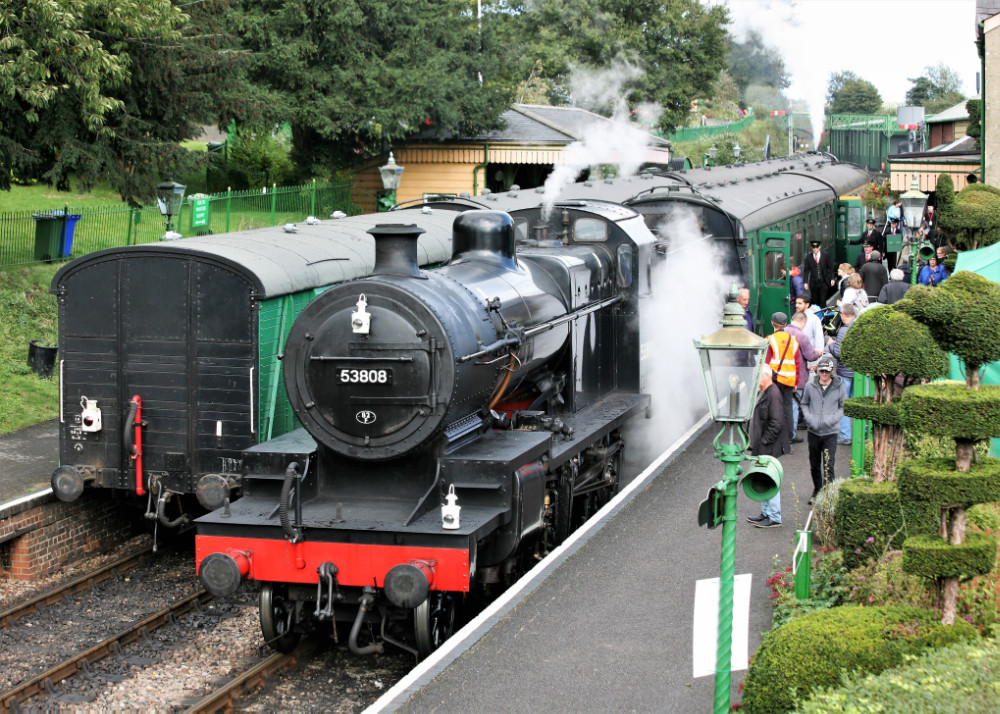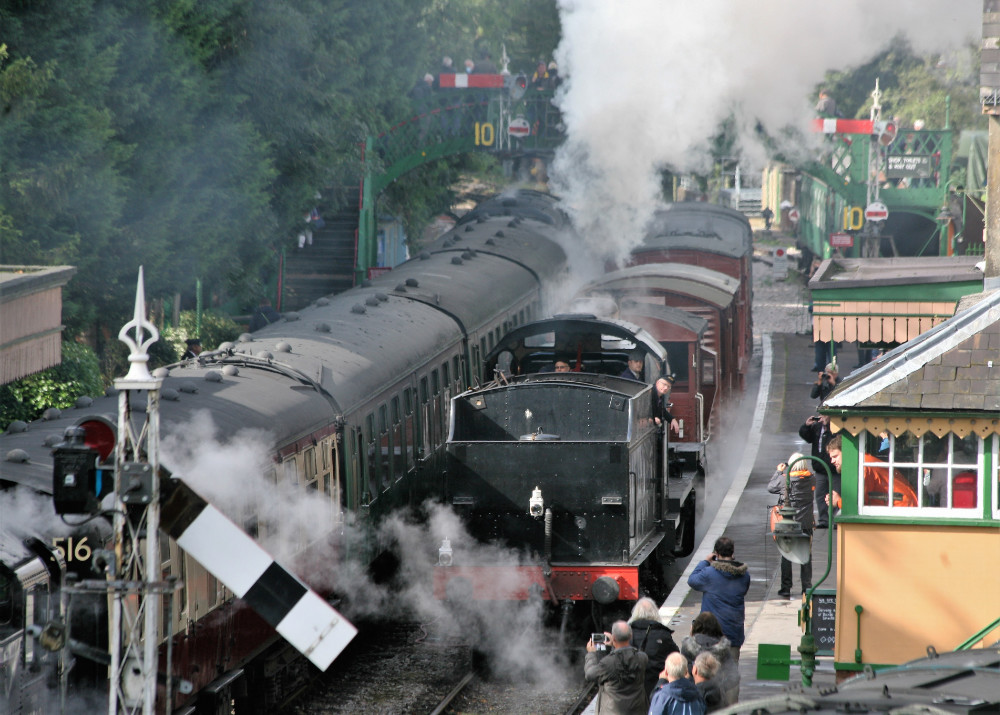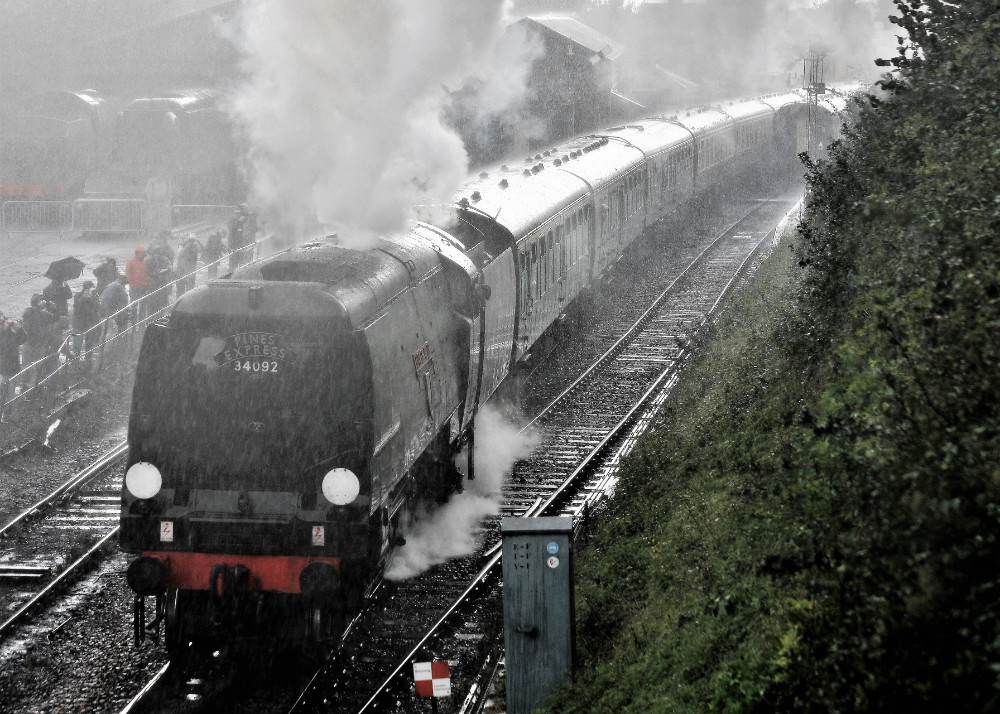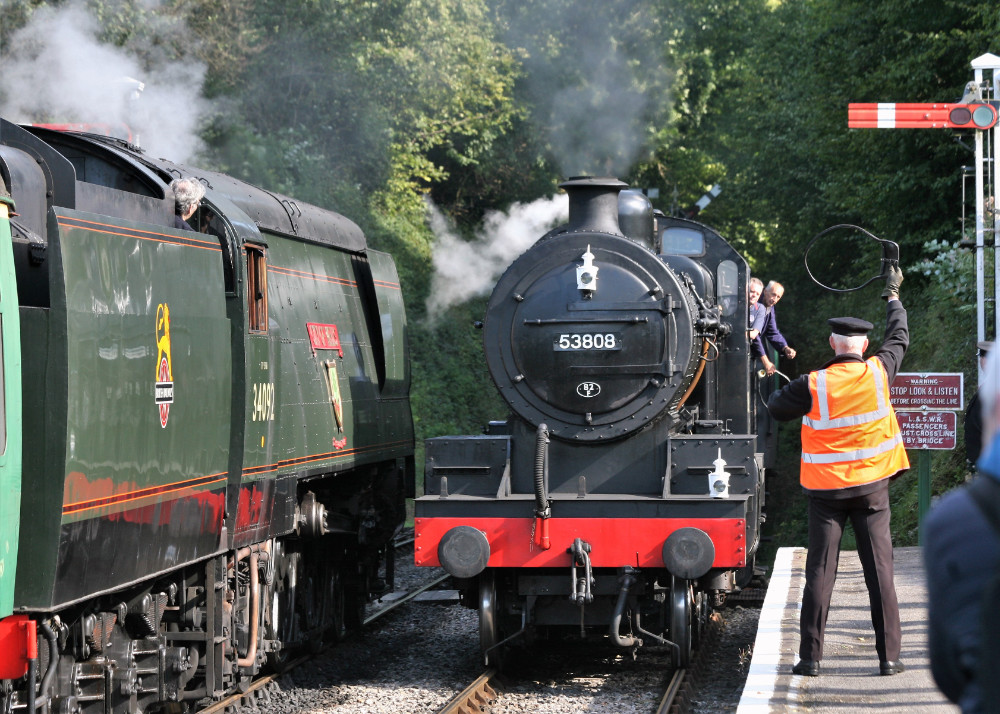 ---
2 October 2021.
On Saturday 2 October, the 1.35 pm departure from Alresford was a recreation of the Pines Express with 10 carriages hauled by Nos. 80151 – on hire from the Bluebell Railway – and No. 34092 City of Wells, brought in from the East Lancs. Railway.
It was certainly atmospheric with all that steam!
Although we have no records of No. 80151 having itself run over the S&D, other closely-numbered locomotives did so; notably 80138, 80146 and 80147.
No. 34092 was named Wells in a ceremony at Wells Priory Road in 1949 with the name subsequently adjusted to City of Wells.
---
19 June 2021.
Time travel, perhaps?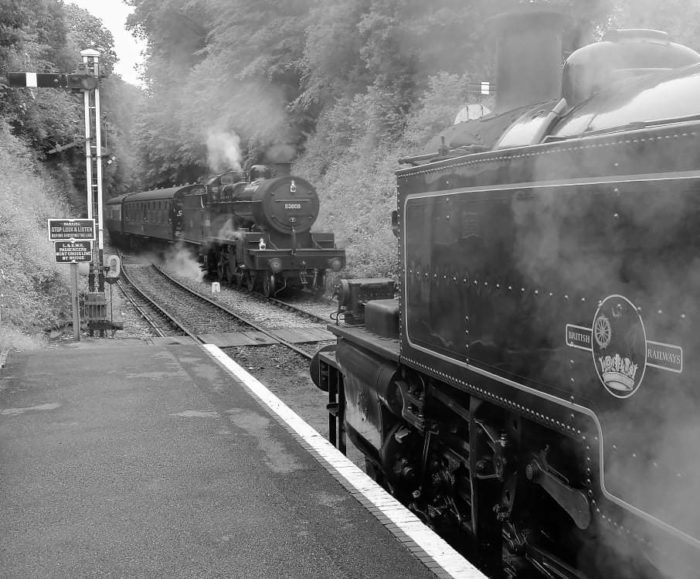 A view from Medstead & Four Marks this morning as 53808 comes in with a service from Alton. There is very little to be seen that shows that this is a recent picture.
The photo was supplied by MHR Operations Manager Richard Bentley. As Richard says, "Time travel may be possible after all."
---
14 June 2021.
Here's a short video showing 53808 in action on Saturday 12 June, along with 41312 and 30925.
---
12 June 2021.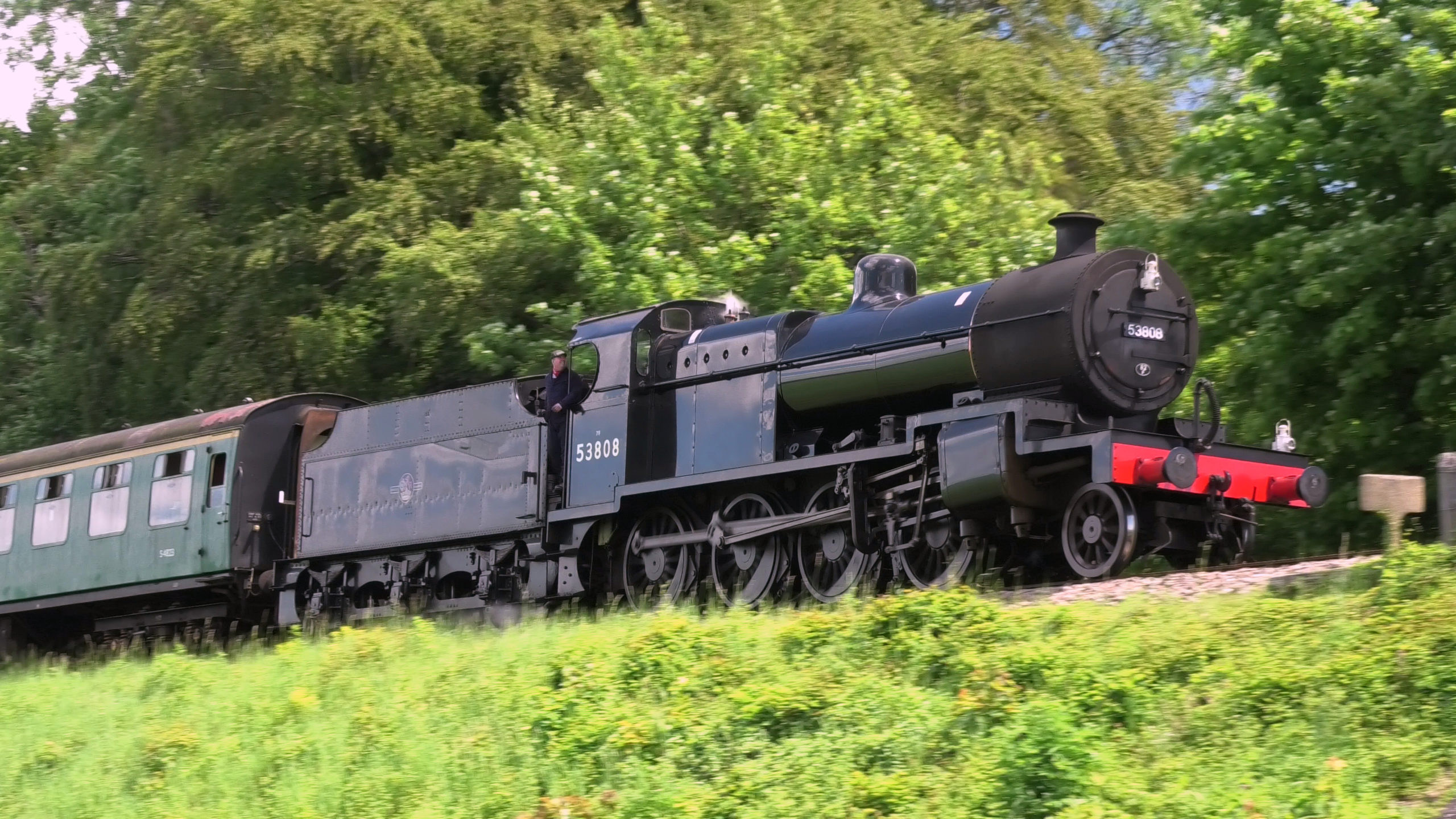 A fine engine was back in service on the Watercress Line today! The Trust's S&D 7F entered service for the first time since the line re-started passenger services on 12 April.
An intensive timetable operated as part of the MHR's War on the Line event; 41312 and 30925 were also running plus a fascinating array of military vehicles was on display at Ropley.
Image taken between Medstead and Ropley – extracted from video footage which is to follow.
---
1 May 2021.
The Trust's locomotives; S&D 7F No. 53808 and Peckett 1788 Kilmersdon back-to-back in the sunshine at Ropley this morning during the Watercress Line's Spring Steam Gala.
[Photos by Roger Hardingham.]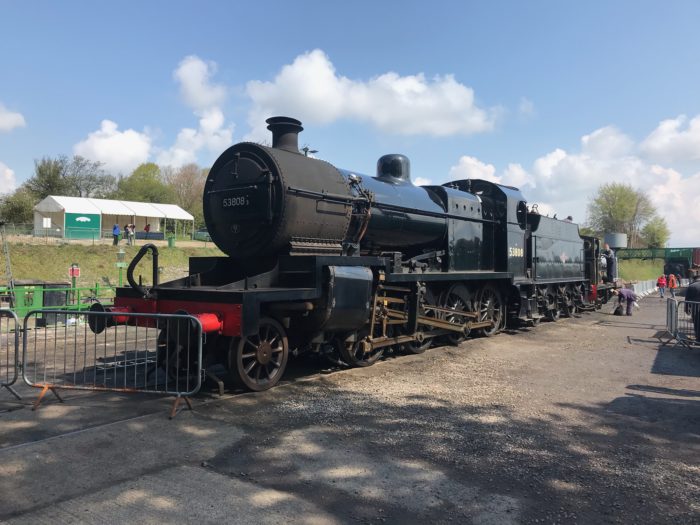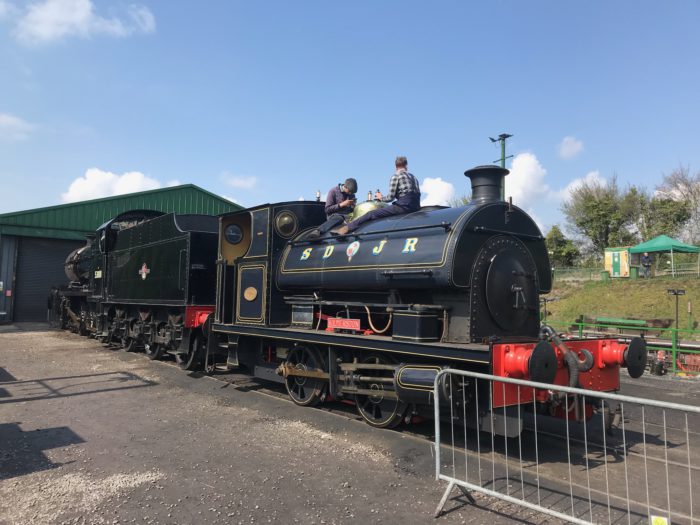 ---
27 November 2020.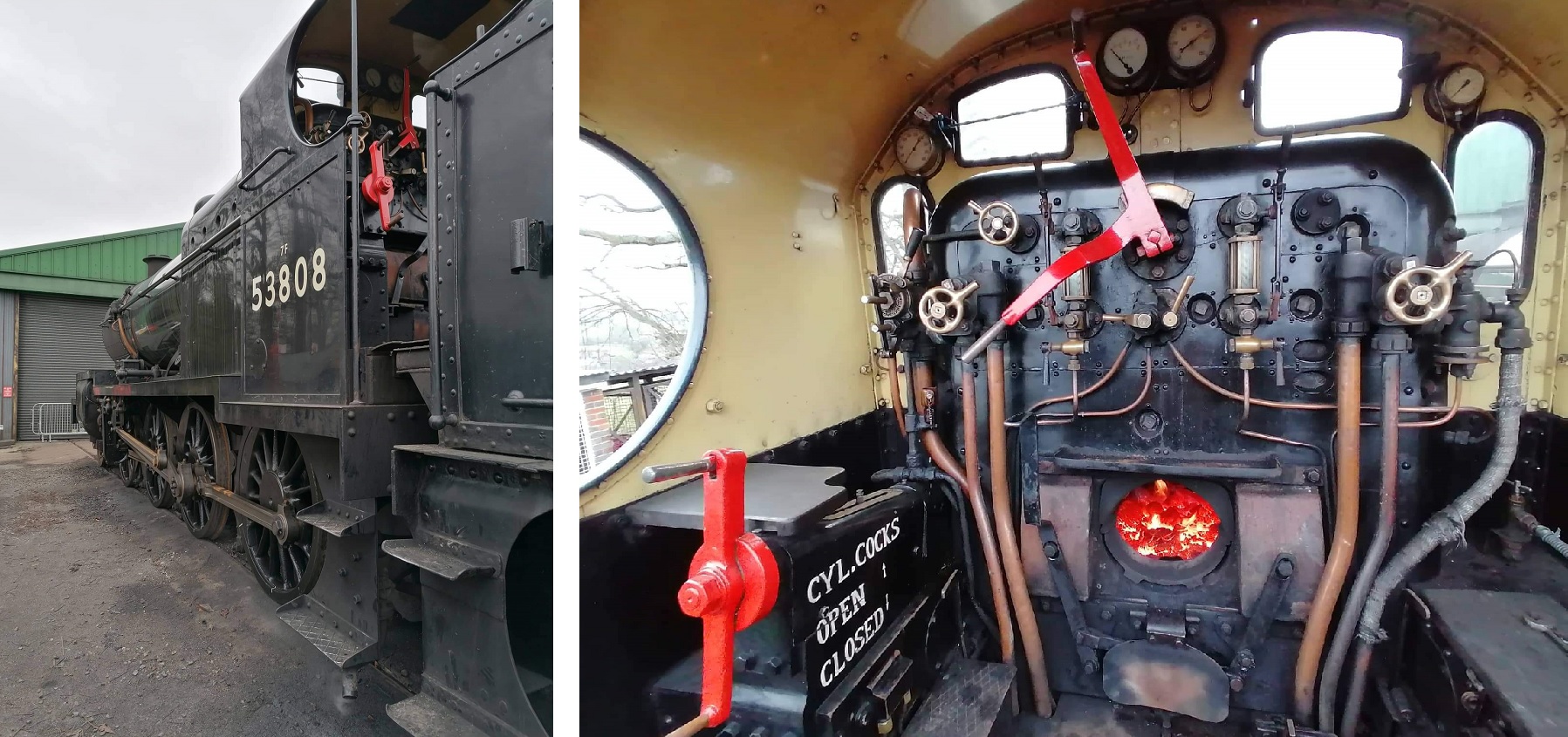 Our S&D 7F No. 53808 was in steam today to test a couple of minor jobs that have been carried out and this was followed by some shunting at Ropley.
[Photos by Richard Bentley.]
---
25 October 2020.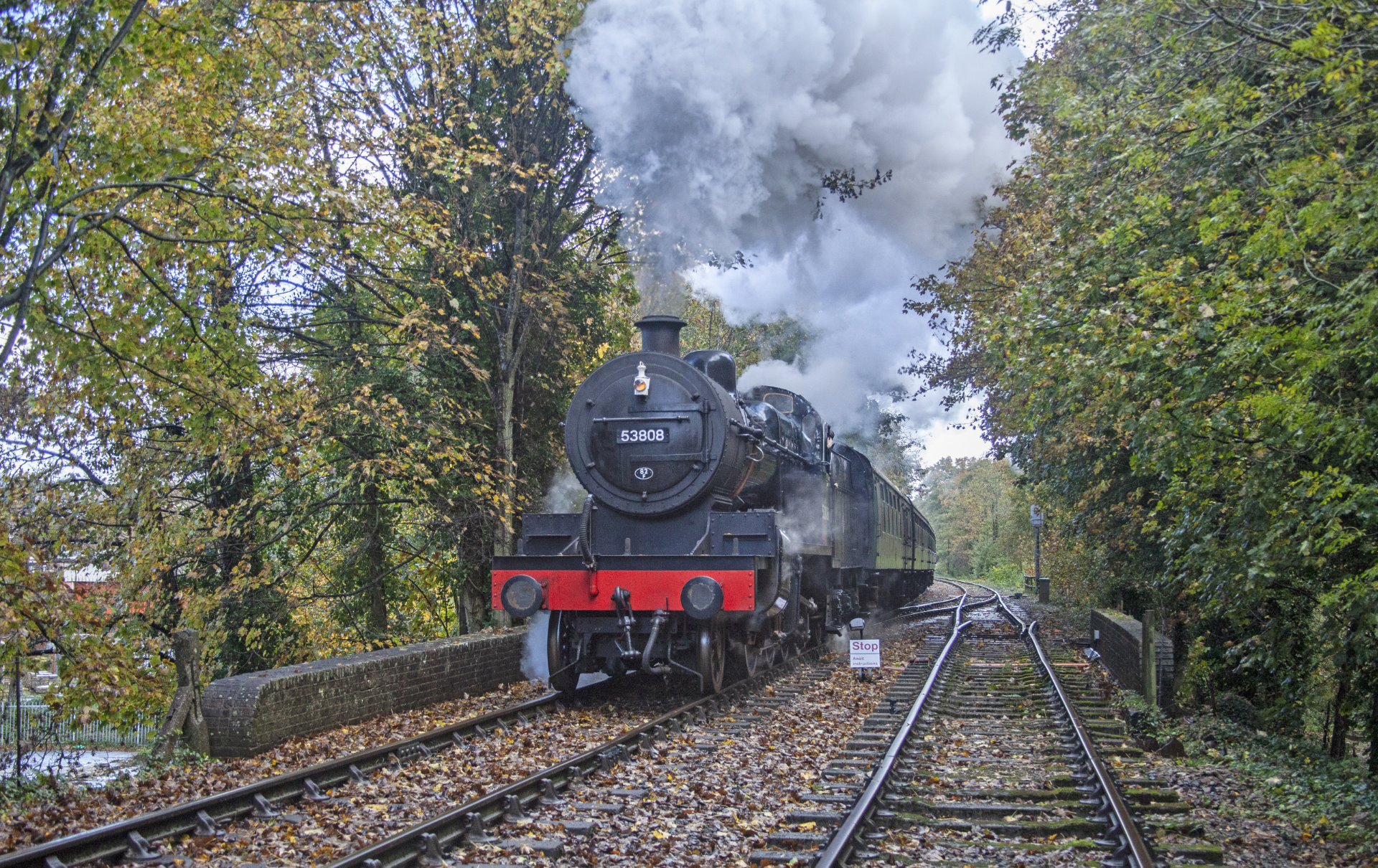 Leaves have been falling and the rails are damp… it's certainly starting to look autumnal as the Trust's S&D 7F No. 53808 heads away from Alton on Sunday 25 October.
[Photo by Matt Bentley]
---
18 October 2020.
Images from the last day of the Watercress Line Autumn Steam Gala from Jason Baker.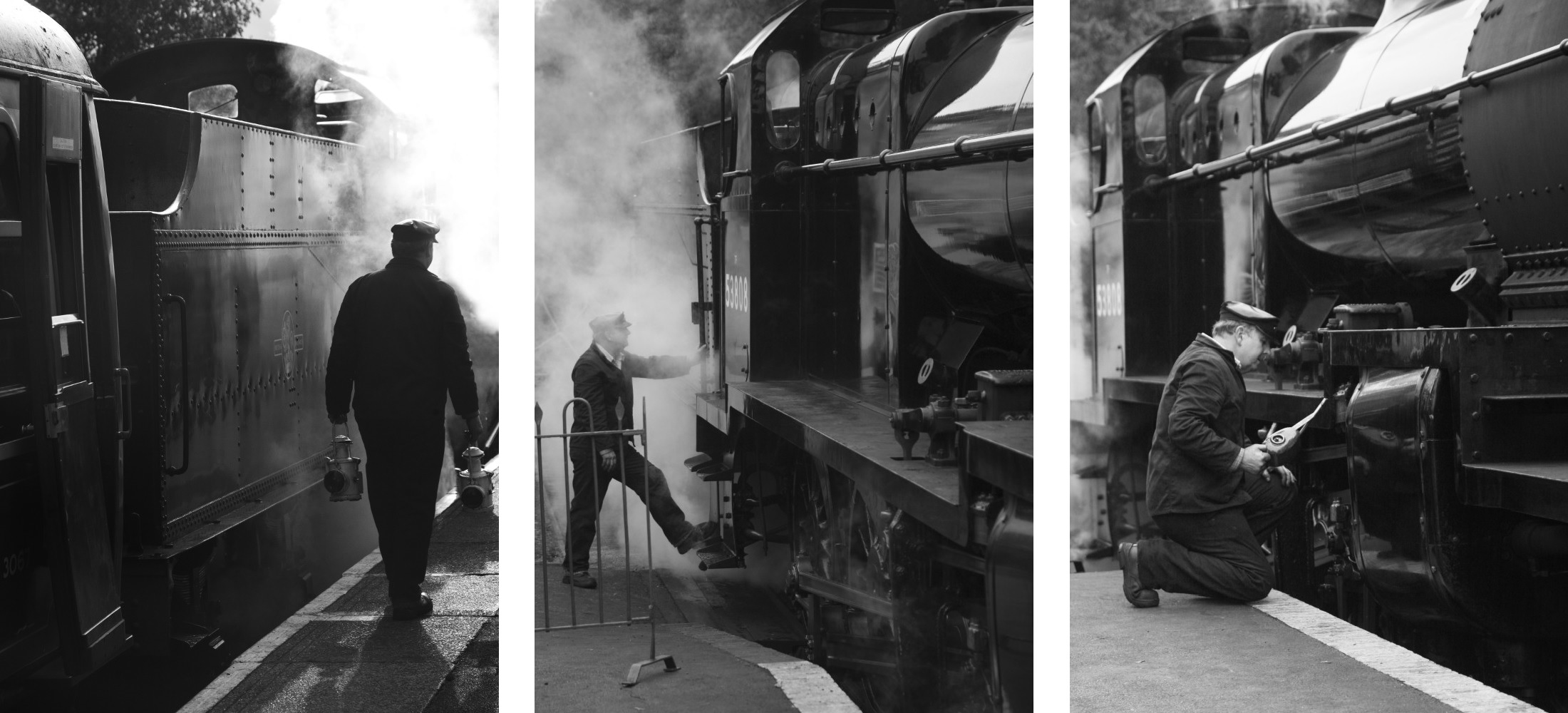 Could have been long ago… Jason Baker captured the mood well with 53808 on the last day of the Watercress Line gala. Of course, if nothing else, the shiny paintwork gives it away that these are thoroughly modern images!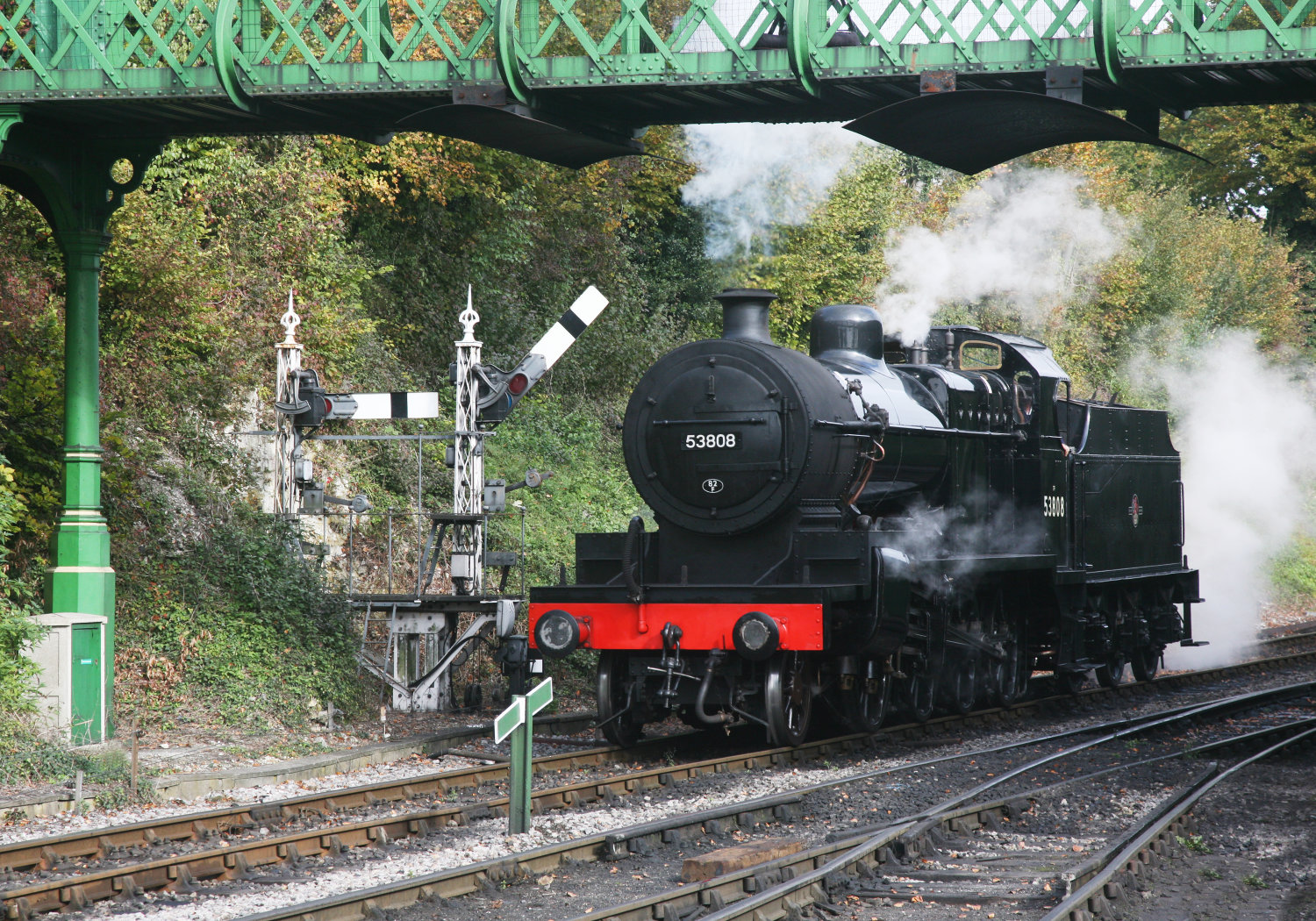 53808 approaching Ropley station from the Medstead direction.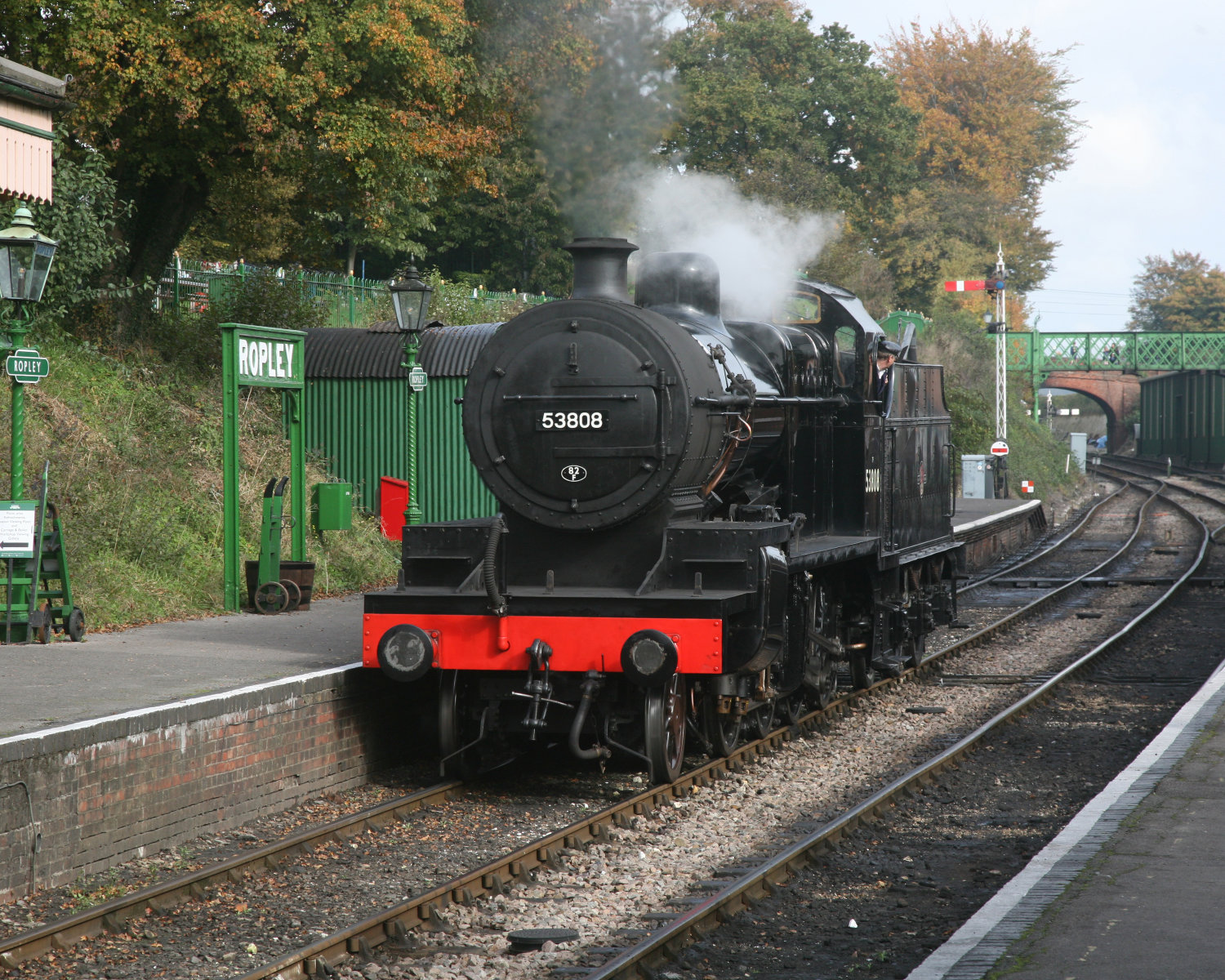 53808 on the up platform at Ropley.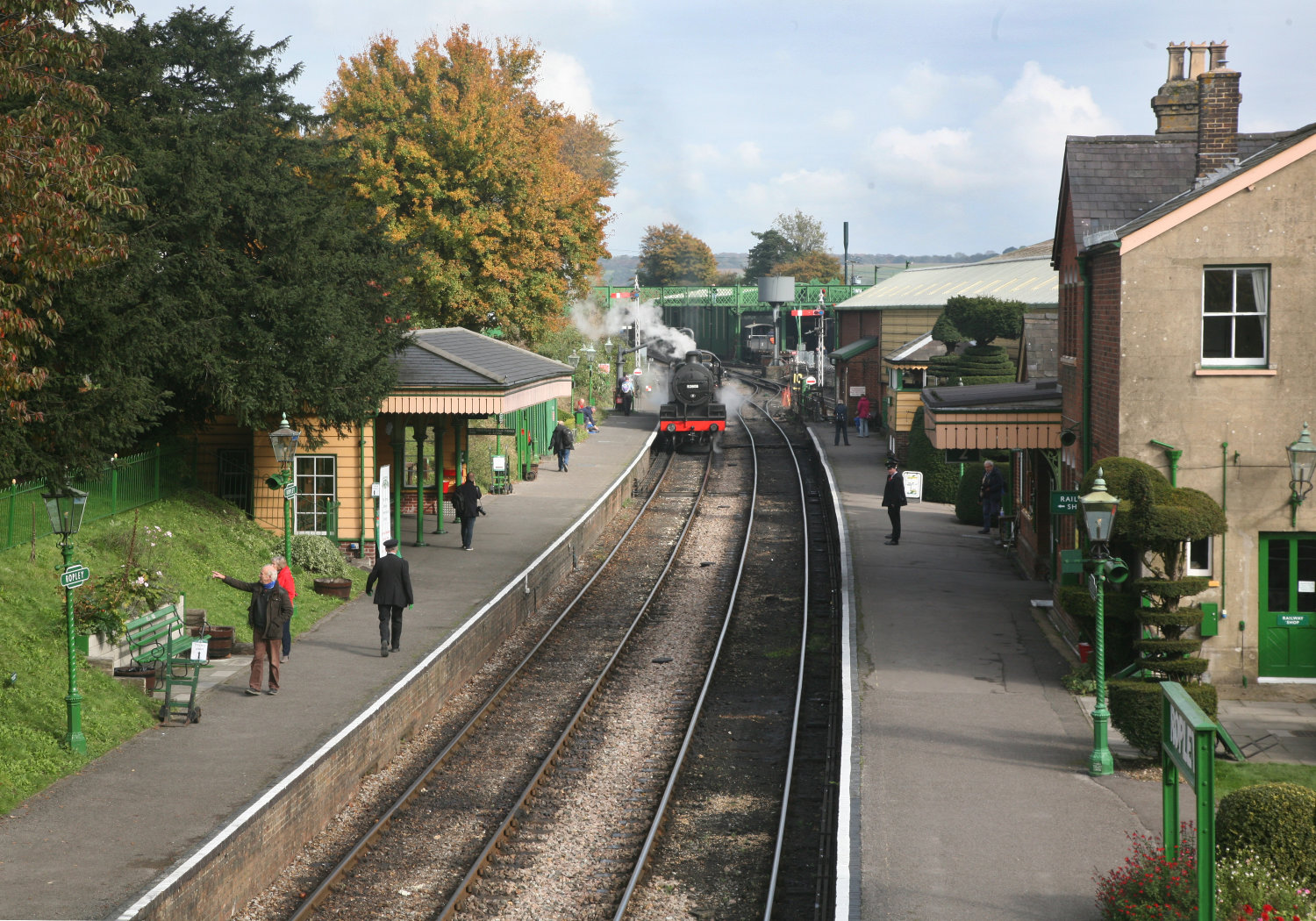 A general view of Ropley station with 53808 in view.
---
17 October 2020.
After the Trust's S&D 7F moved from the West Somerset Railway on long-term hire in August 2020, the Watercress Line Autumn Steam Gala was the first time in active service on the line since 53808's last visit some years ago.
It was a delight to see 53808 striding up the 1 in 60 gradient between Ropley and Medstead; in the video we include two of the other locos involved; Stanier 'Jubilee' 45596 'Bahamas' and SR S15 30516.
The main part of the video was taken between Ropley and Medstead followed by a short section at the foot crossing between Alresford and Ropley. We have also included some still images featuring 53808 taken by Julian Clark on Friday 16 October.
You might also be interested in the updated Kingfisher DVD about the 7Fs, available from our online shop.
Here are some images from Julian Clark taken in the sunnier weather on Friday 16 October: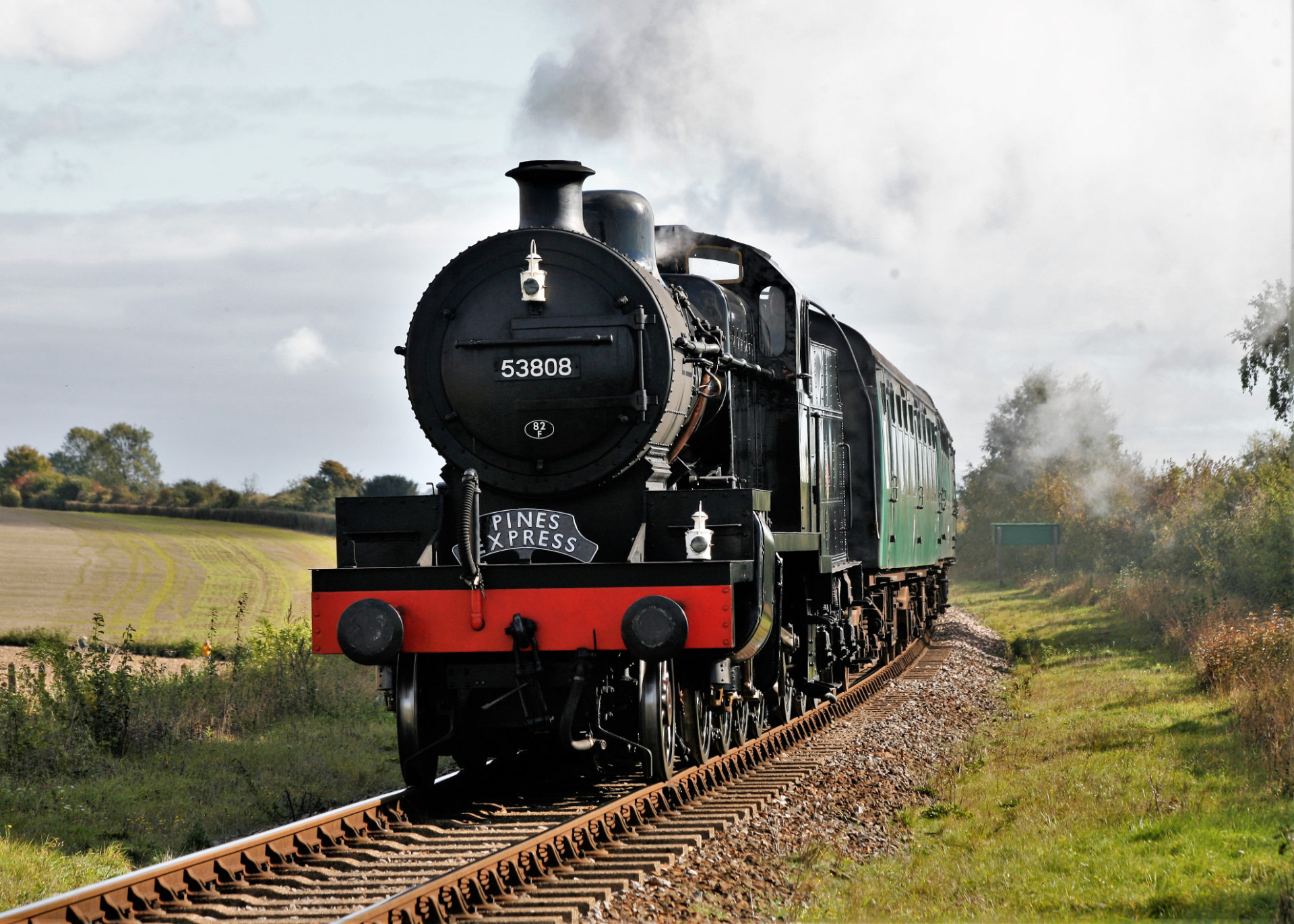 Above, shortly after leaving Ropley and about to pass over the footpath crossing on the way to Alresford.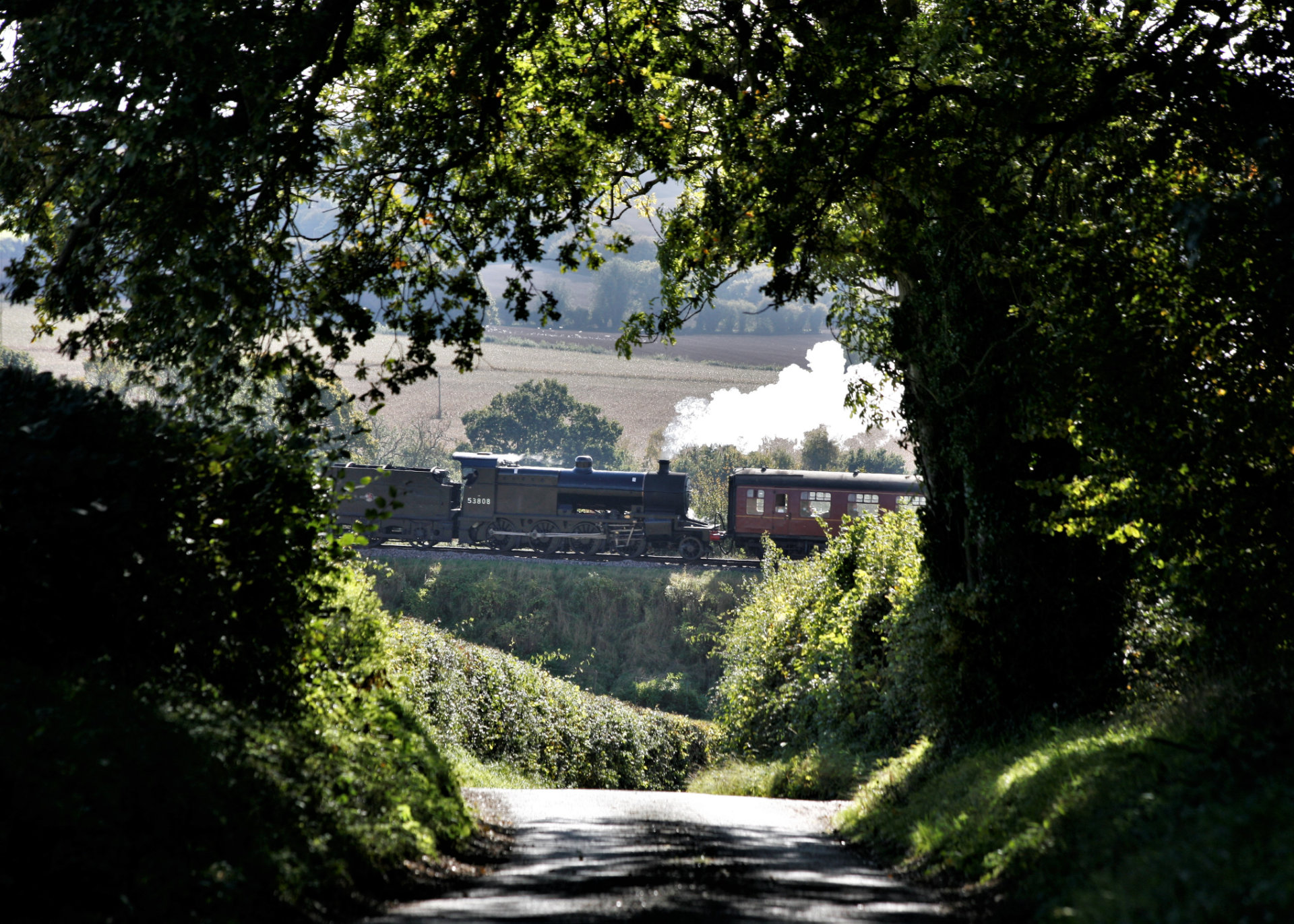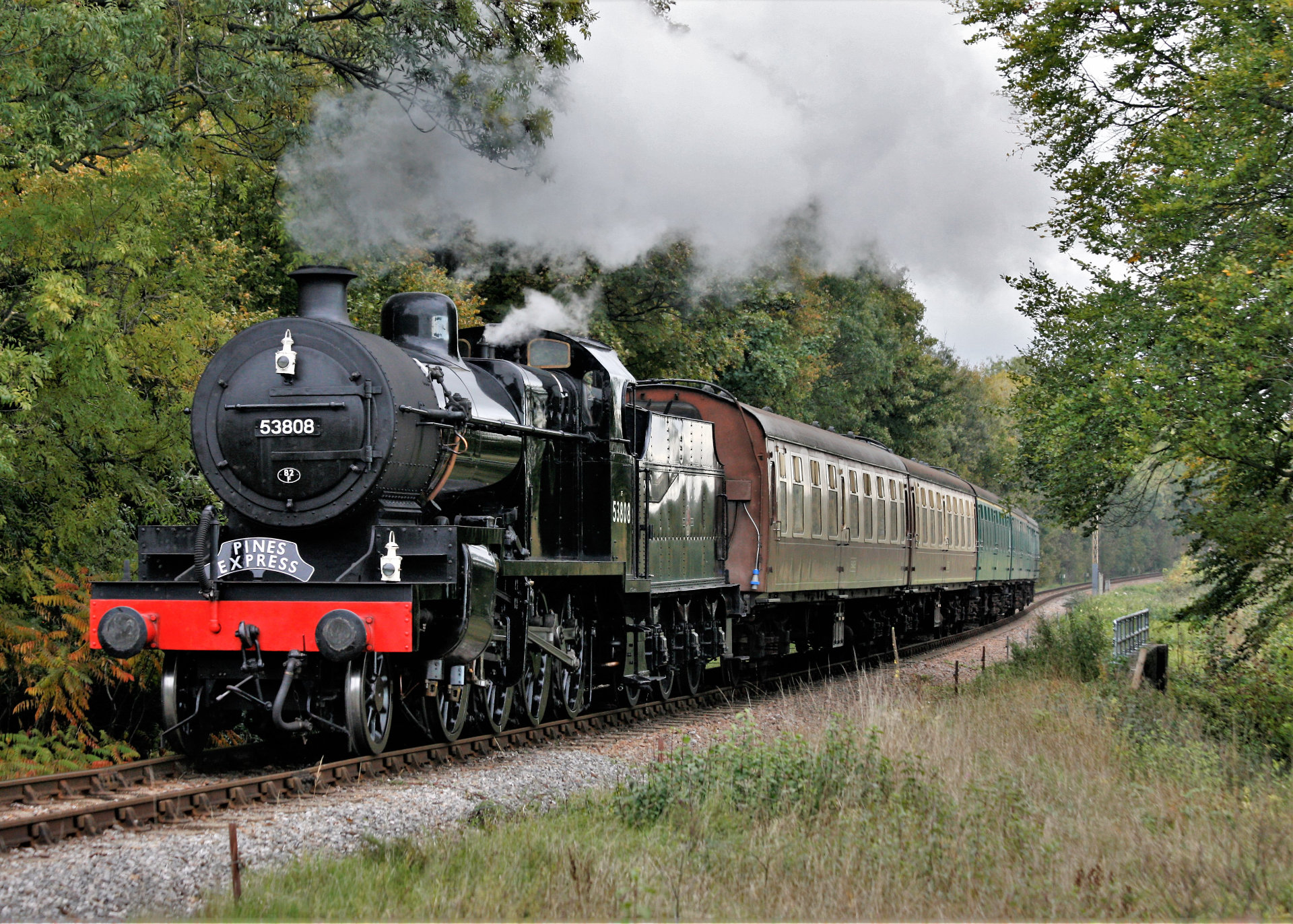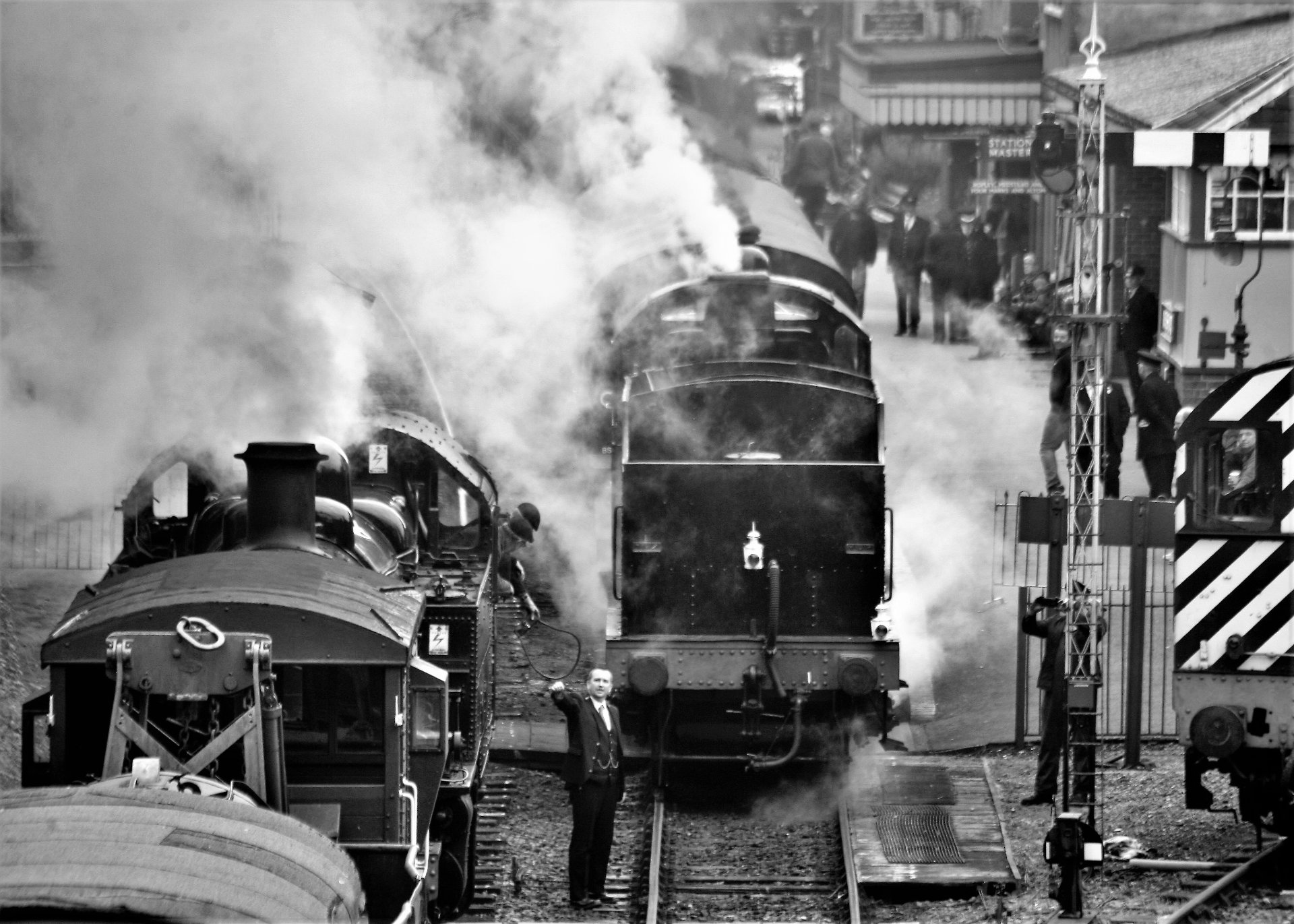 Above, 53808 waits to leave Alresford while a demonstration freight train runs in.
---
15 October 2020.
53808 has been in steam in preparation for the Watercress Line gala weekend from 16-18 October, this running providing the opportunity to bed-in the new piston rings.
Please note: the gala event is completely sold out. There are no tickets left and no access to stations during the event for people without tickets.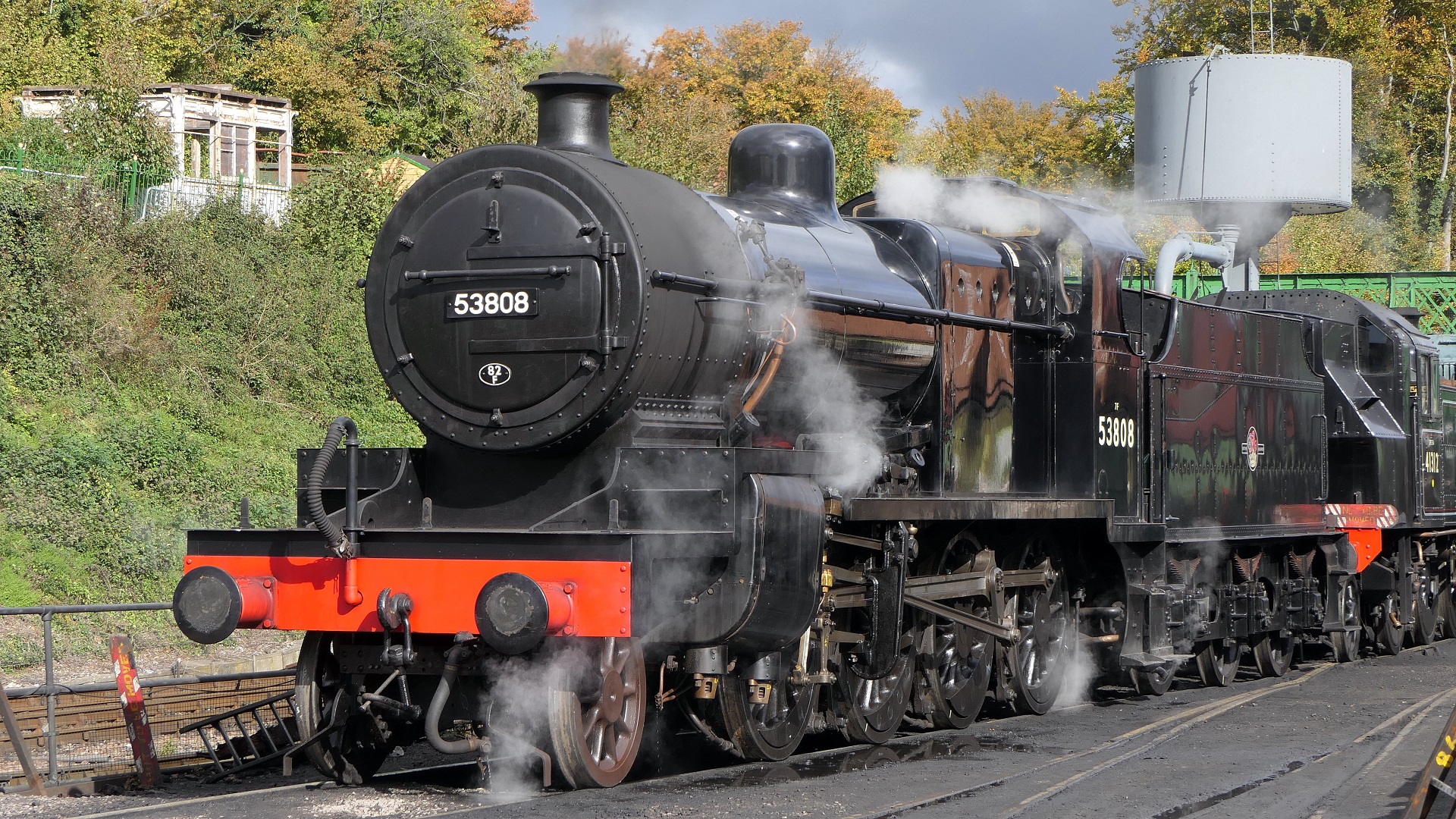 Above, 53808 is seen at Ropley at 1.30 pm on Tuesday 13 October. [Photo by Brian Kennedy].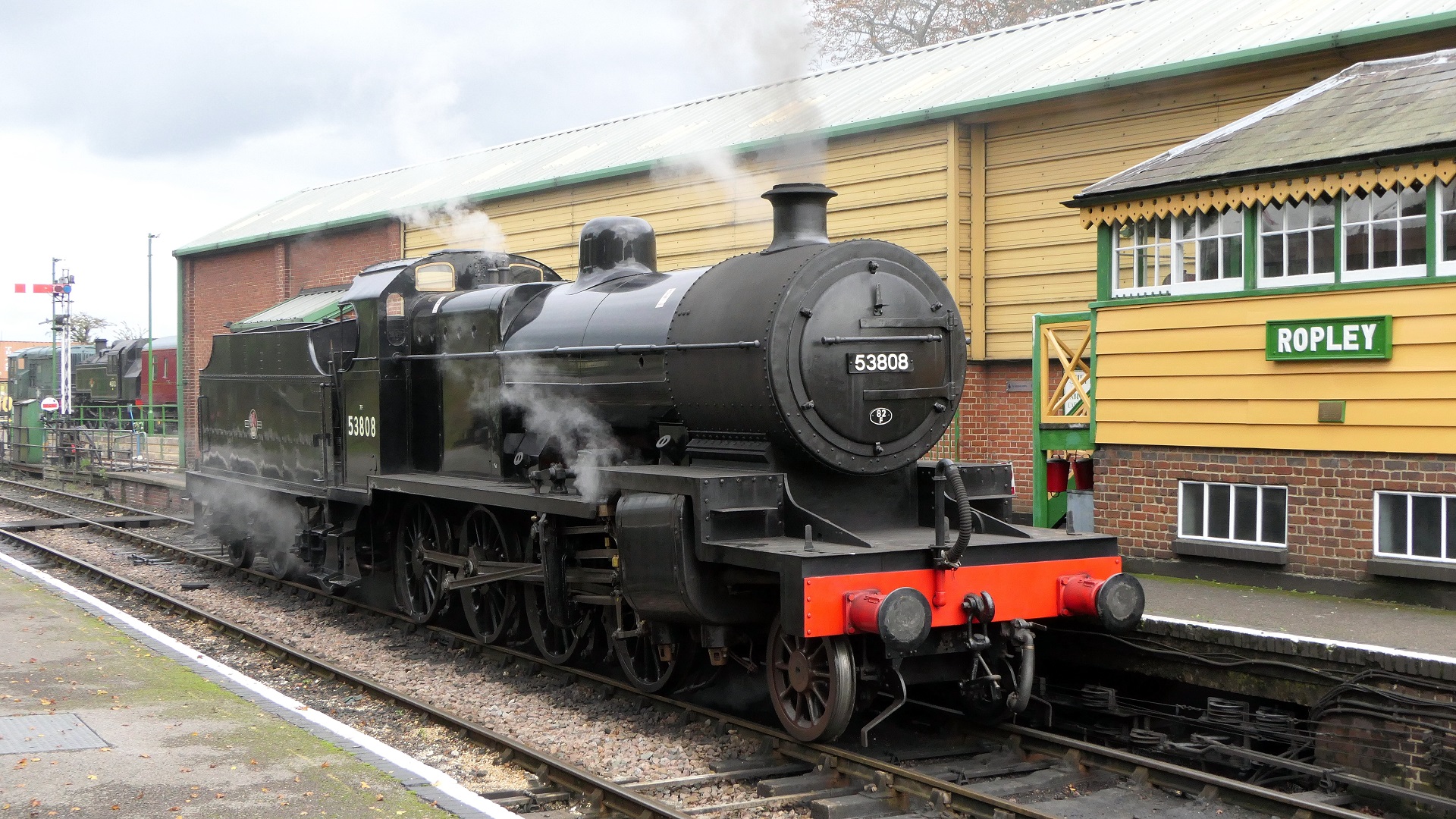 53808 beside the signalbox at Ropley. [Photo by Brian Kennedy].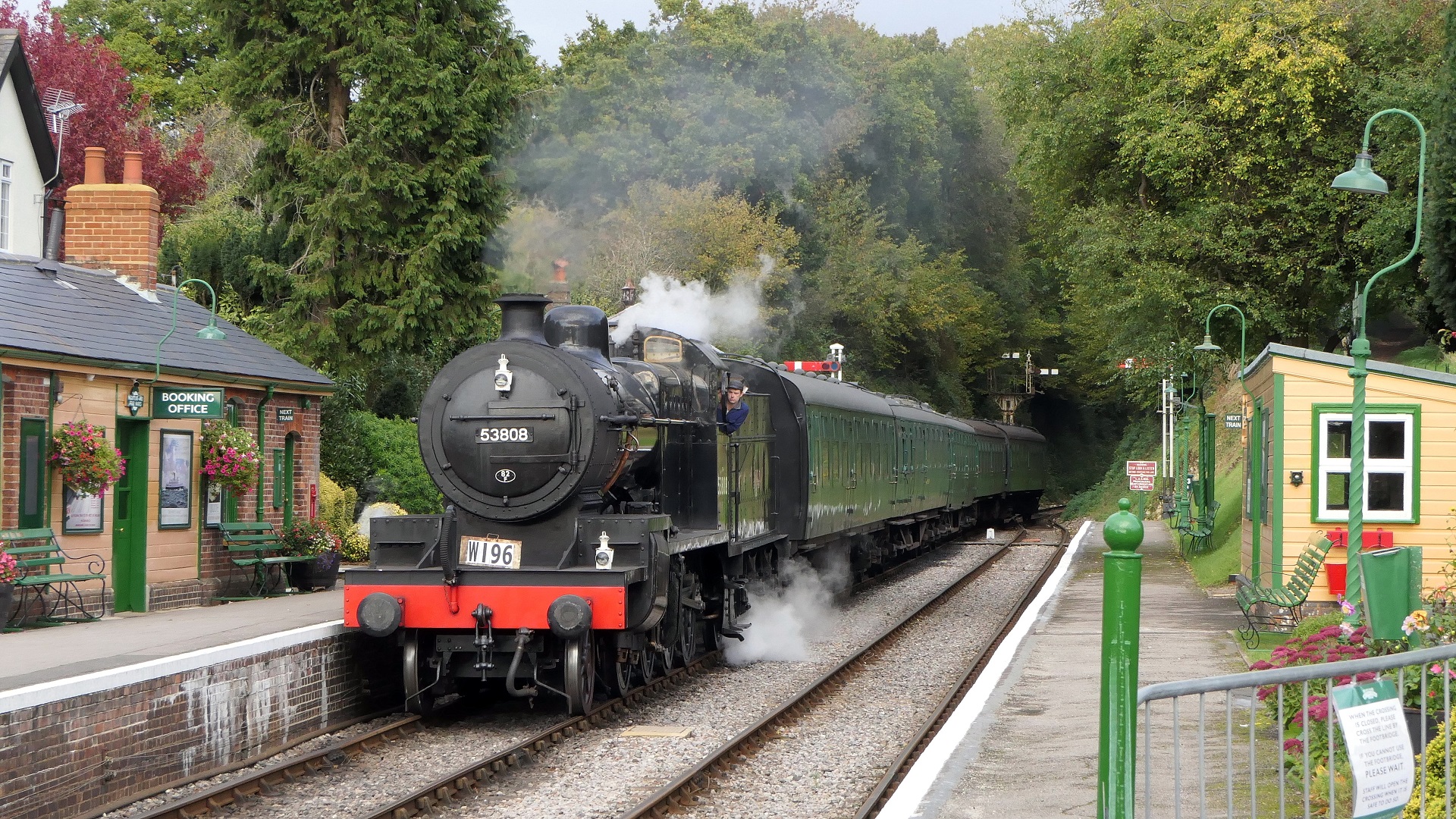 Just before 5 pm on Tuesday, 53808 came through Medstead with a string of carriages. [Photo by Brian Kennedy].
---
14 October 2020.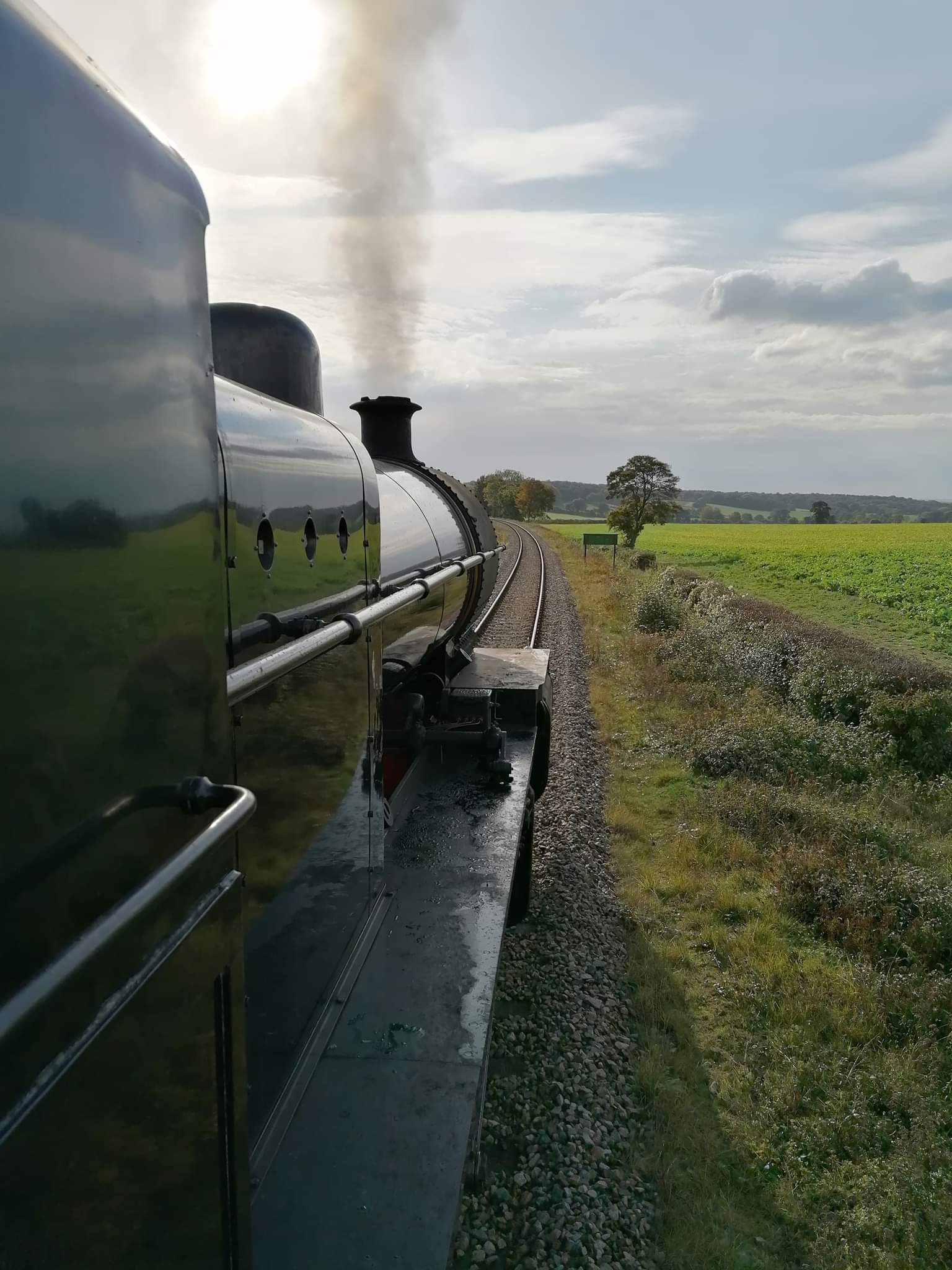 53808 runs down from Medstead to Ropley on 14 October. [Photo by Richard Bentley].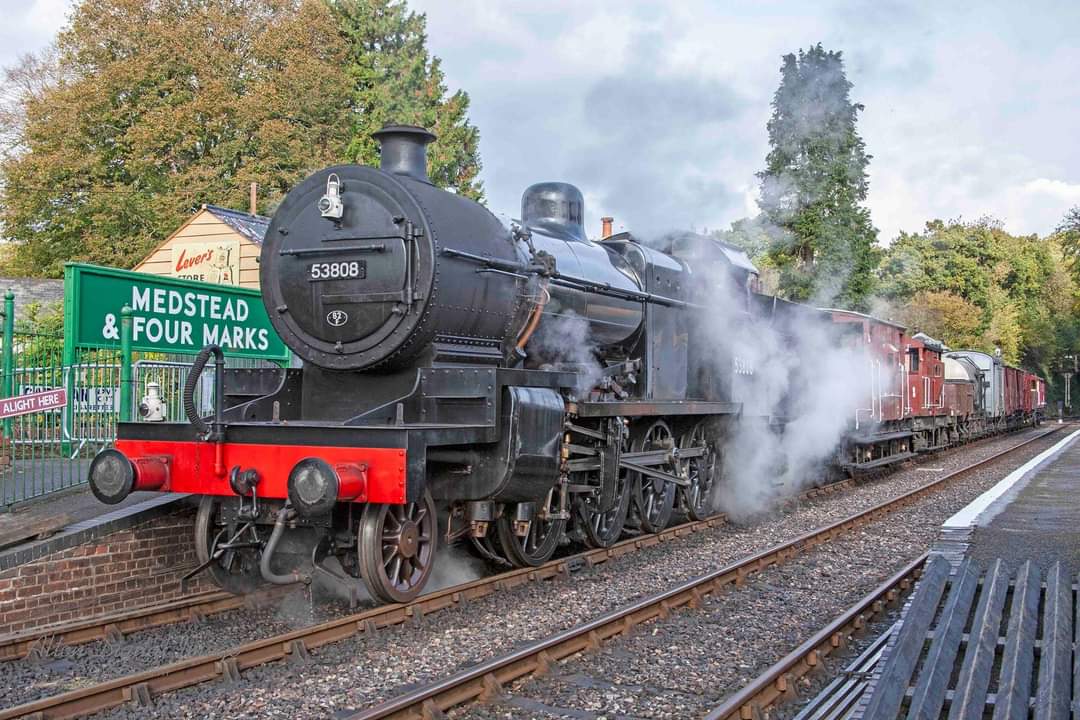 53808 at Medstead on 14 October. [Photo by Matt Bentley].