Tuesday the 8th June saw another busy day at Washford
Rediscovering the Archives – Bath Green Park fingerposts
As we have been working across the Washford site we have been rediscovering many artefacts that have been out of public view for several years. Over the coming weeks I hope to be able to illustrate some of these and what we plan to do with them in the future. This week I'll focus on what I would call the Bath Green Park fingerposts, I am sure they will have many different names! The picture below from the Trusts archive illustrates them in position in 1961.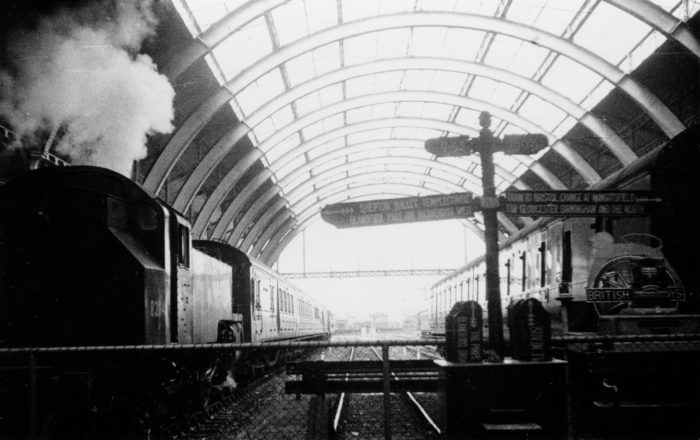 The Boards are all that remain of this set up and were on the top shelf in the museum store. Wanting to show the beauty of them, the team decided to recreate the missing elements. Dave and Barrie have been working away over the last few weeks to reconstruct the box and post in order to recreate the scene as part of our new museum display at the Mid Hants.
We will be attempting to tell the story of cross country secondary main line routes of which the S and D was one. The services of these lines took people long distances across the country for work and leisure. The Pines Express being a central service across the S and D up until the last one traversed the line in September 1962. I am looking forward to seeing the final finished product which will include a hand carved acorn made from English Oak by Dave.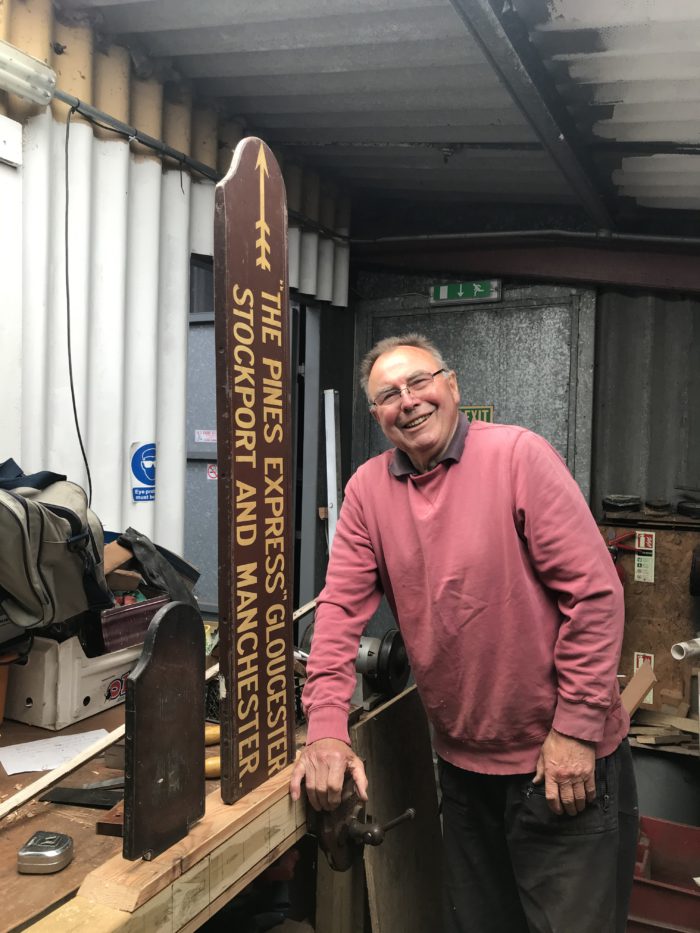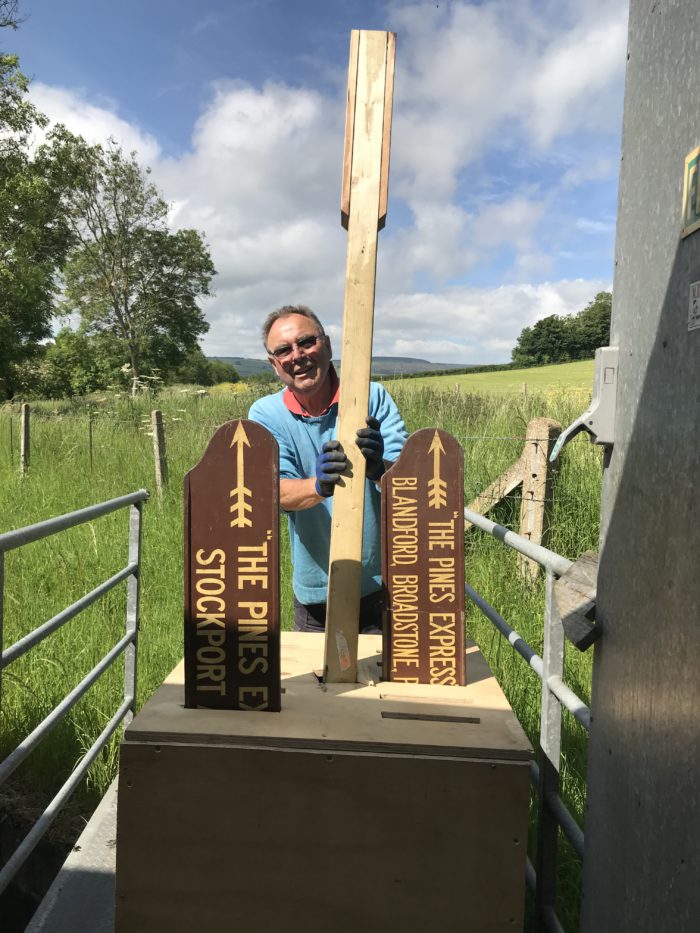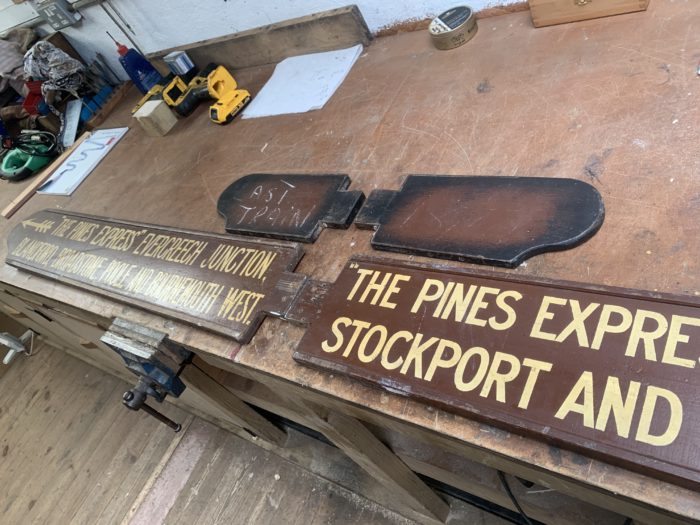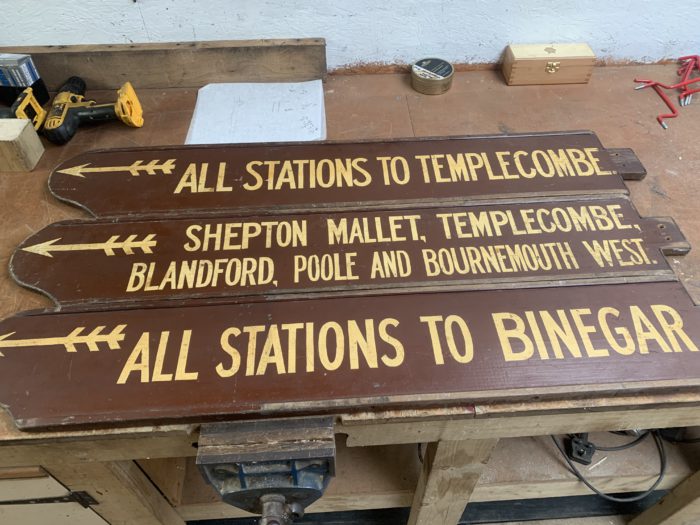 Washford Bristol and Exeter Sign
As I mentioned in my last blog we are preparing to move the Burnham Box. In order to do this the immediate area around it is being cleared. Behind it was the original cast iron Bristol and Exeter running in board which was at the station when the Trust moved in during 1976. It has long been in the yard and was repainted in 2019 with the intention for it to be repositioned on the platform during 2020. Covid put pay to that and this is now unlikely to happen. In order to ensure it is protected for the future of the Washford site we have taken the opportunity to relocate it to the station side of the tracks where it is now stored indoors. We briefly positioned it outside the station building and took the picture below.
Shed Signs
With the majority of museum artefacts in the station building now packed attention has turned to the signs and signals which have lined the shed walls for many years. A solid days work has seen them all removed, labelled and packaged for onwards transport. Another key milestone in ensuring we protect the collection.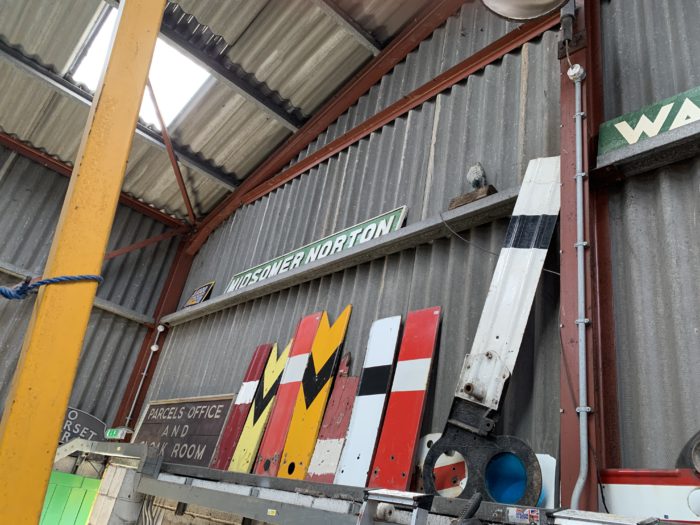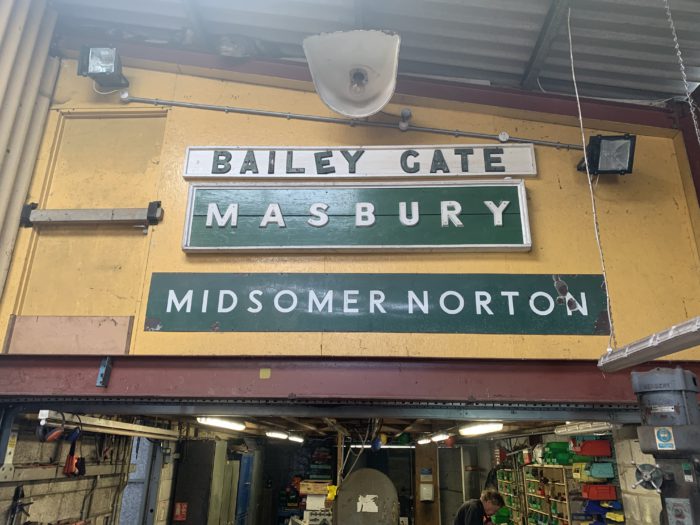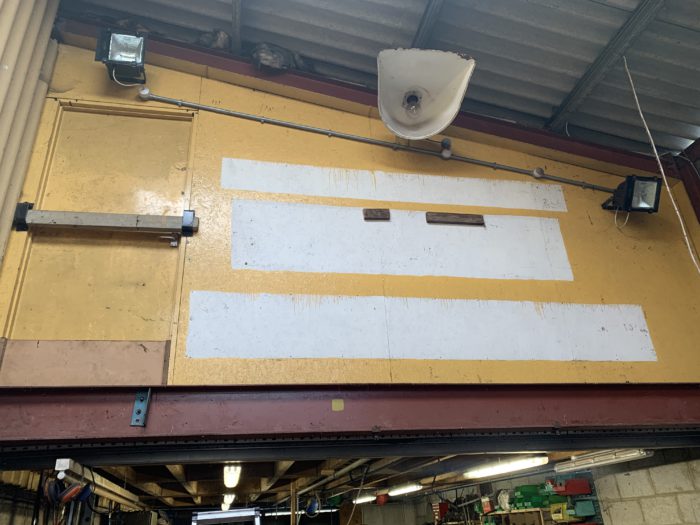 As always, I cannot go without mentioning the Progressing our Future appeal. The appeal is vital to support us moving forward and to ensure we are able to continue to preserve what has been built up over 50 years. Please consider giving what you can. Details can be found here: https://www.sdrt.org/appeal-for-the-future-of-the-trust/
Chris Ruddick, Projects Director
---