Readying for the big museum move
If all goes to plan, next week will see the first large movement of museum artefacts to the Mid Hants Railway. We have been working hard with our friends at the MHR to define display themes and have agreed the first displays to be established. As a result this Tuesday saw the matching of the large signs and exhibits to these themes. We utilised the vacant space in the shed at Washford to lay out the signs and group them together. You will have to come to the museum at Alresford in October to understand a little more.
Normally the one behind the camera, whilst we were readying the signs for packing into the transport, David noticed a very good opportunity for a photo shoot. The trust are indebted to David for his continued dedication to the Washford site in particular over the last 18 months. Throughout the pandemic and lockdowns David has acted as the security guard for Washford, visiting regularly and ensuring the site and its contents were secure. He is also playing a vital role in helping establish the new museum displays.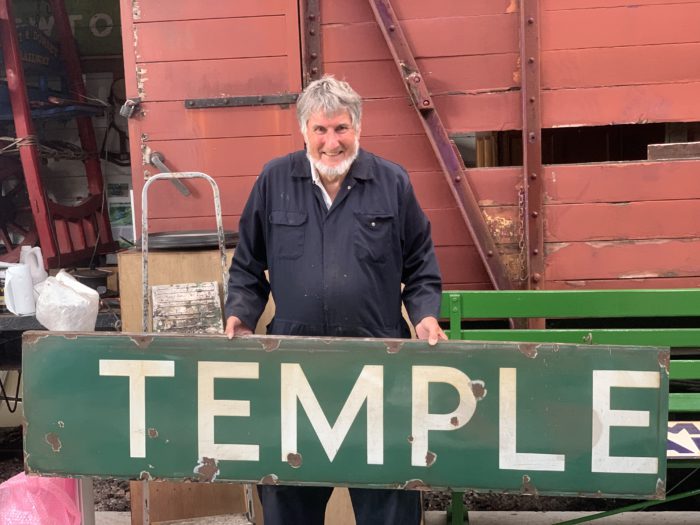 I originate from the heart of the S and D having grown up in the area surrounding the Somerset Coal Fields. With the opportunity present, I couldn't resist positioning a number of the signs from the Bath extension together. 2024 sees the 150th anniversary of the opening of the line north. Several detailed discussions were had over the spelling of Masbury. With some believing it should be spelt Maesbury, similar to the castle remains close to the old station site. Closer inspection of an ordinance survey map once home confirms the station and the small hamlet surrounding it is indeed spelt without the e today.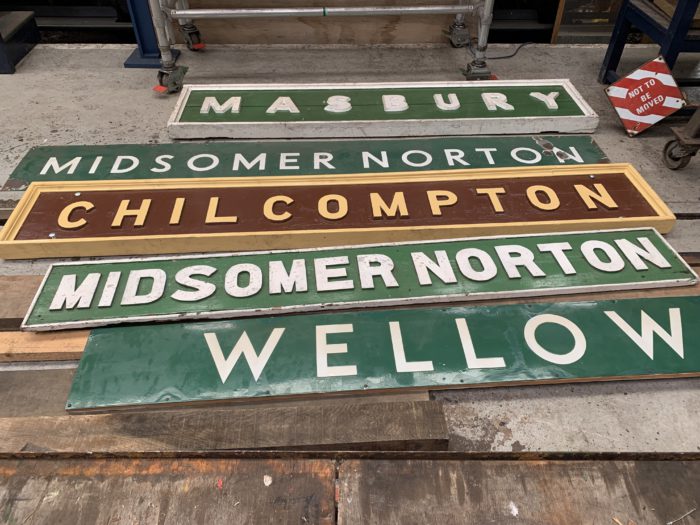 Peat Railway moves
The guys from Westonzoyland pumping station were on site when I arrived in the morning to collect the last two wagons from the peat railway shed. One in particular proved difficult to move so Washford's own muscle Barrie stepped in to give them a helping hand.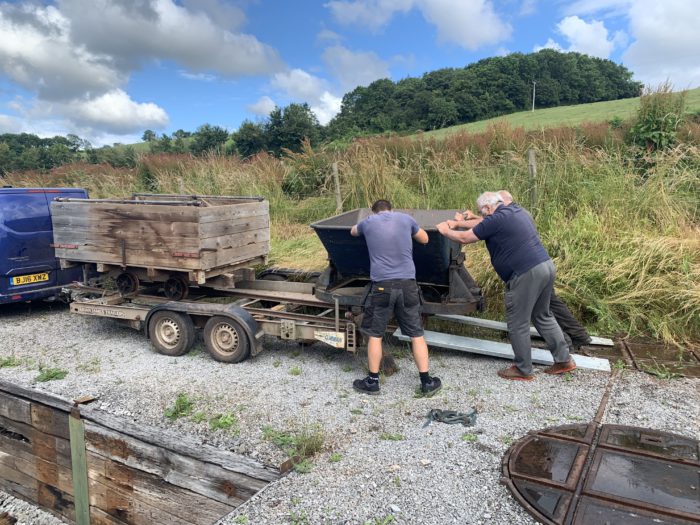 Barrie was later captured taking a well earned rest sitting down finalising the painting of the Fingerpost box whilst Dave attended to the reassembly of a Sack Truck that has been undergoing renovation.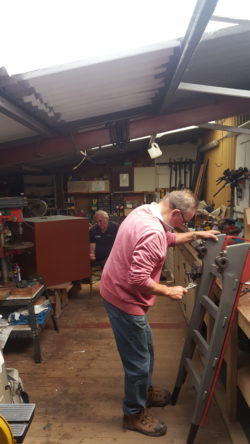 Later in the day the Tuesday gang set about clearing the weeds and overgrowth from the peat railway track in order to help with a swift removal. They will be returning later in the month to remove the rail, turntables and part of the shed building. You can see the peat railway items on display at one of their open days later this year, further details can be found here: https://www.wzlet.org/events
Our Appeal
As is my customary sign off please don't forget the Progressing our Future appeal. The appeal is vital to support us moving forward and to ensure we are able to continue to preserve what has been built up over 50 years. Please consider giving what you can. Details can be found here: https://www.sdrt.org/appeal-for-the-future-of-the-trust/
Chris Ruddick, Projects Director
---