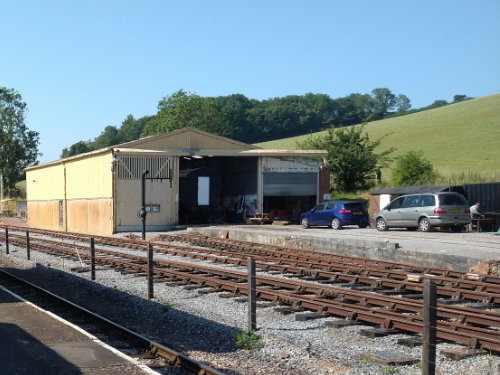 Today, our chairman wrote to members as follows:
Washford
I am delighted to confirm that both the Somerset & Dorset Railway Trust and the West Somerset Railway Heritage Trust have reached provisional agreement to sell the S&D shed and track at Washford to the WSR HT.
Talks have been ongoing for a while, following initial introductions facilitated by the WSRA, which led to very productive discussions between the main parties. I must especially thank Mike Thompson, chairman of the WSR HT, who took this on to bring it to a successful conclusion. The final deal is still awaiting completion of the legal documentation but it is hoped for everything to be concluded before the end of 2023. Both parties hope that this deal will benefit both organisations as they progress with their respective future projects.
Movement of Items from Washford
To complete the exit from Washford, the S&DRT volunteers have been working tirelessly to clear the shed and surrounding areas and I would like to personally thank them for this arduous task in difficult circumstances.
All the rolling stock has now all moved from the site apart from Coach No. 4 which is waiting for loan agreements to be finalised. The two diesel shunters have now been sold and will be leaving in the coming days. Our exit from Washford after all these years has seen some good news stories too. We have put on long-term loans many items of rolling stock, artefacts and buildings such as the Wells Hut and Lamp Room with lamp posts and signal posts also being distributed to like-minded trusts. The signal frame and levers from the demonstration box at Washford has been put on loan to the Tarka Line at Torrington who will be rebuilding a signal box on their site. This LSWR location was clearly very suitable for our LSWR/SR equipment. These moves have all helped other organisations.
And so our departure has benefitted many other organisations in the heritage railway scene, these are –
The North Dorset Railway Trust at Shillingstone
The Somerset & Dorset Railway Heritage Trust at Midsomer Norton
The Tarka Line Trust at Torrington
The Lynton & Barnstaple Railway
The Mid-Hants Railway – Watercress Line
Some items will need to be stored by ourselves in three containers which will leave Washford in the coming weeks and we can then concentrate on our strategy for the future which will include the overhaul of our 7F No. 53808 and the development of our museum status and vast artefact and historical record collection. We look forward to receiving your continued support to achieve these aims.
Roger Hardingham, Chairman, S&DRT Ltd.
---